There are two very good places that you can go to get great information on Durham / Durham County's assisted living offerings.
(Return to or visit our Durham assisted living page)
I think, first, it's helpful to point out that in North Carolina, assisted living is divided into four separate categories:
Adult Care Homes
Family Care Homes
Alzheimer's & Dementia Care
Housing With Services
The Triangle J Area Agency on Aging offers a specific definition for each of these sub-categories, and it's important to know the differences as you set out to research.
This Agency, and their website also provides a very good list of assisted living facilities in Durham County, as well as others in The Triangle  area.
The great thing about this list is that you can look through it quickly to identify the capacity of each facility, whether it offers Alzheimer's beds, whether it is a Nursing Home, or offers Adult Day care.
Each facility is marked with the following codes to tell you about each one:
NSG = Nursing Home
ACH = Adult Care Home
ALZ = Alzheimer's Bed
Additionally, there is a terrific "County Resource Guide" that comes in a printable .pdf format, that is also offered through this agency.  Just select the "County Resource Guides" link
A snapshot of what is included in the Guide: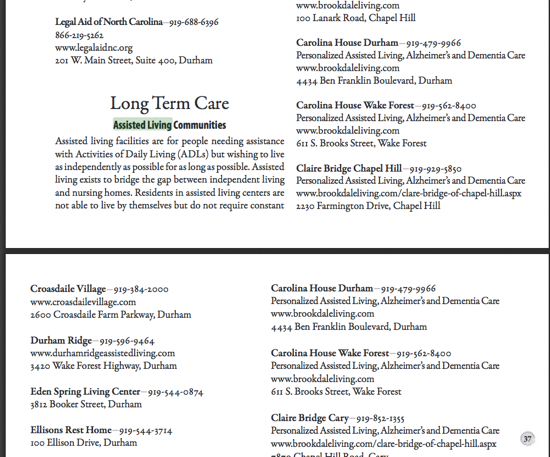 The really great & helpful thing here – which is something that most senior care/assisted living sites won't do – is include each facility's website address, if they have one.  There is over 80 pages of comprehensive information on many senior care aspects and categories in Durham – and perhaps the best thing of all, it's completely free!
You can get the guide here:
http://www.dcslnc.org/publications/administrative/Durham_Center_for_Senior_Life_Senior_Resource_Directory.pdf