Oh my do I love it when I discover something incredibly cool, useful and above all – free.
(Visit, or return to our Tampa assisted living page for facilities information, photos and video tours.  Every facility that we list may be contacted directly.)
I share these discoveries with my site's visitors, unlike so many other sites.  They don't like to share these golden nuggets of information and research help because there is no money to be made in it.
To me, I see a responsibility to help my site's users no matter what the 'cost.'
Many of our families and caregivers to our site ask for a printable (or save-able) list of facilities for whatever town or city they are in, and I am happy to say that for Tampa, it is extremely easy.
To get a list like this, follow the steps below (and remember, this list is very wide with lots of columns of information).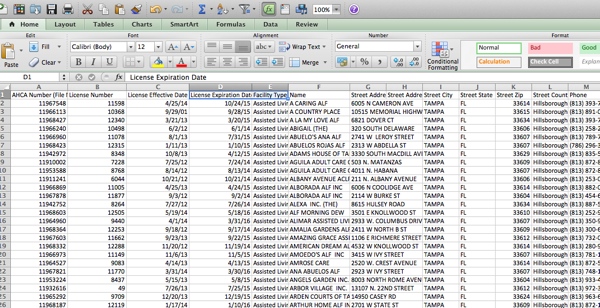 1) Visit our favorite, state-sponsored site for assisted living information in Florida:
http://www.floridahealthfinder.gov/facilitylocator/facilitysearch.aspx  (will open in a new tab)
2) Choose Assisted Living Facility in the facility type list
3) Enter Tampa for the City
From there, a large list of facilities will come up – you can look at each facility to find good information on inspections, complaints and licensure information.
At the bottom of the list, you'll see a button that says 'export to excel' and from there (assuming you have excel) you should get the list that you can save, print, modify or write notes on.
The great thing about a printable or list that you can save is that you can take it with you to each facility that you tour, and write notes, cross ones off that aren't a fit, and use the information to come up with constructive questions to ask.
I hope this has been helpful!
– David