I love it when I can direct people to a resource that is incredibly helpful and trustworthy.    Unfortunately, in the murky waters of the internet, those types of great resources are hard to identify.
For Montana, there are s number of great tools and resources available to the public for the state's assisted living facilities, memory & Alzheimer's care, residential senior care and more – if you know where to look.
First, I'd like to direct you to the State's Quality Assurance Division website, which is sort of a 'hub' for the State of Montana's health care services, including assisted living.
Their site looks like this: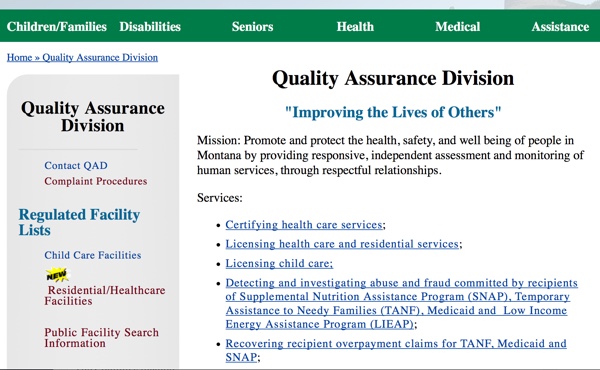 There's a lot of information here about licensure,  complaint procedures, as well as contact information for the department.
How do I get a list of assisted living facilities in Montana?
Within the Quality Assurance Division, there is a section for Regulated Facility Lists, and within this section, there is a link to Residential / Health Care Facilities.   
The link opens into an Excel document which can be saved, printed modified and sorted.
The Column's include
Facility Type
License Number
Facility Name
Facility Phone Number
Facility Administrator's Name
License Expire Date
Number of Beds
County
Address (including the city and zip) both physical and mailing
The list will look like this: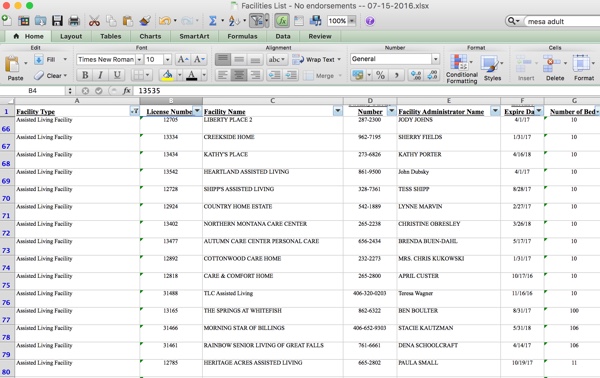 I did a 'sort' of the first column to see assisted living facilities in Montana. At this time, there are almost 300 statewide.   
I also sorted the facility size section, which is useful in that many seniors are drawn to either smaller, more residential-style facilities that offer a more home-like environment, whereas other seniors like the larger, more active, and often corporate-backed 'community' style assisted living.
This list is really great for those who like to write notes (not via computer) and for those times when you are touring a facility, you'll have a list at your disposal to jot notes on, or to cross off those that are not a good match.