I've said this before, and I do believe it, that often times the very best tools, sites and resources for assisted living are not the ones at the forefront of those who need them – whether searching online, or elsewhere. Usually, those great resources come from State agencies or departments.
(Return to, or visit our Alabama Assisted Living section).
Alabama is no different in this regard. The State, and for this blog post specifically, the Alabama Department of Public Health, offers some real jewels of helpful tools and resources for researching assisted living anywhere in the State.
You can even get an Excel Spreadsheet of facility options by city, county, or license status (probational, or regular) that looks like this: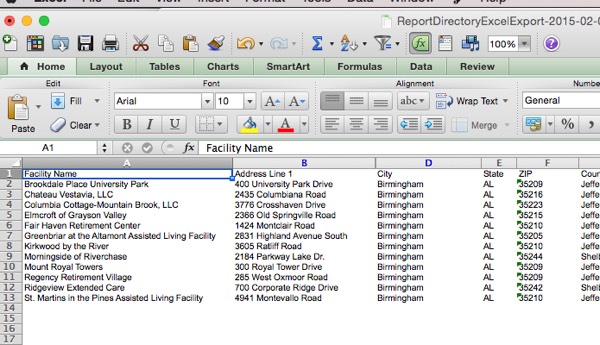 Here is a Screen Grab of the Search Form: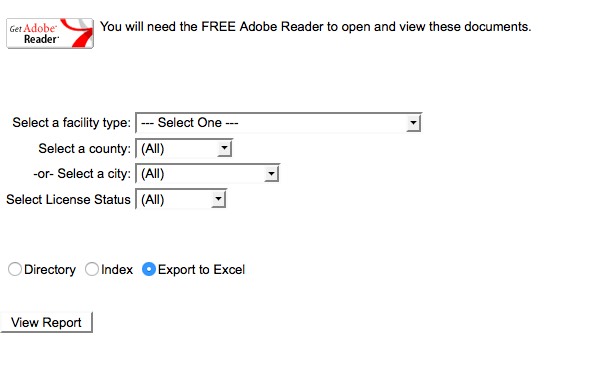 The great thing here, is that you can choose to have the list output in Directory format, Index, or Export to an Excel Spreadsheet.
I like this last option, in that you can save, print, sort your data, add cells to make notes, and take with you on a portable device as you tour and visit the different facilities (all assuming you have a device that has Excel installed).
Even if you don't, most phones, devices or platforms have a way to convert any spreadsheet to the one you are using (for example Google Docs/Spreadsheets).
So, I did a quick test, and asked for Assisted Living and chose a city, and indeed, a list of the city's licensed facilities came up.
There were several rows of information as you scroll from left to right, including
The facility's address, County, Facility ID and the Administrators Name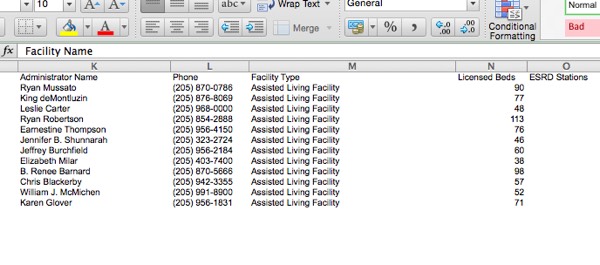 You'll also see the phone number, Facility Type, Licensed Beds, Facility Class and associated beds/types, and Licensee Type (i.e. not-for-profit, partnership, or Limited Liability Corporation).
This spreadsheet is straightforward, and gives you a quick snapshot of what's available in your city or county in Alabama, with pertinent data and information that can help you to research each facility further, or to contact them directly for a brochure, or to ask questions.