Learning about Assisted Living Regulations in Utah
Return to or visit our Utah assisted living section.
I have to say that when it comes to offering good, easy-to-navigate, and useful state-supported information on assisted living, Utah has some work to do.   They are way behind in offering an up-to-date, robust and interactive database of assisted living facility information, as well as other critical areas relevant to assisted living and long term care.
Most states offer a way for the general public to search facilities, to get help, to see rules, regulations, inspections and facility licensure information – but Utah, if you are trying to research here, may make you want to pull your hair out.
Notwithstanding the lack of good, and easily accessible state-supported information on assisted living, you can still find information regarding rules and regulations for assisted living in Utah.
First, it's important to identify who is responsible for the regulation and oversight of assisted living in Utah, and this title goes to the state's Dept. of Health, Facility Licensing and Resident Assessment.
Their site looks like this (at the time of this writing):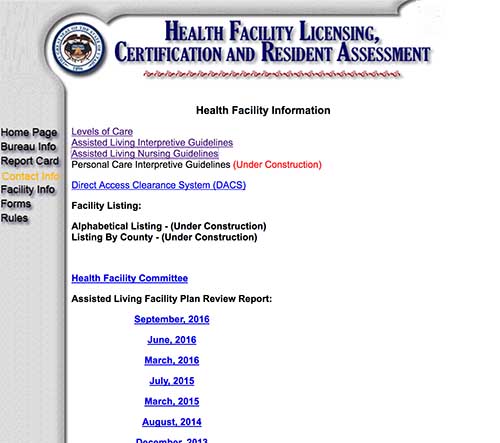 A visit to this site will offer some basic information on assisted living specific to Utah, including:
They have several areas of their site that are 'under construction' such as facility lists, that hopefully will be made available soon.
Beyond that, there is much to be desired and that has been left out.   You can contact the Bureau of Health Facility Licensing and Certification directly to ask a question or to seek information that is not readily available on their basic site.
Where can I find Rules and Regulations (or Administrative Code) for Assisted Living Facilities in Utah?
This data can be found on a much more robust and user-friendly website – the Utah Department of Administrative Services, Office of Administrative Rules.
Here, there is a Rule R432-270. Assisted Living Facilities section that offers a very easy-to-follow table of contents that outlines each section or topic area of Utah's assisted living regulations.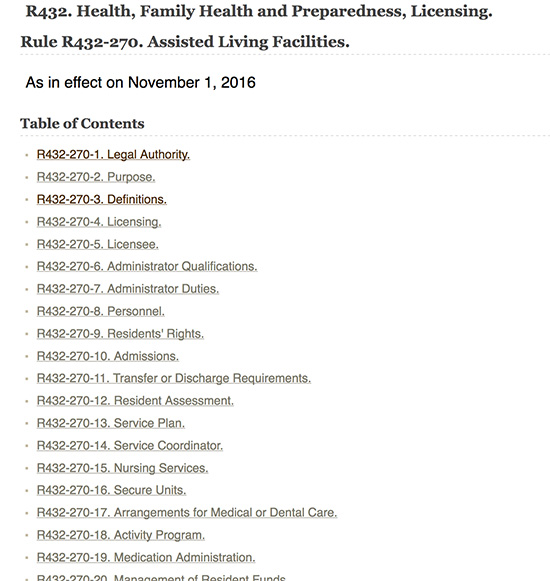 Important sections include:
R432-270-3. Definitions.  – Definitions are important since how a state defines assisted living and related topics can vary/change from state-to-state.    
R432-270-6. Administrator Qualifications.
R432-270-9. Residents' Rights.
R432-270-19. Medication Administration.
There are many more sections, of course, and each offer definitions and details of different topic areas of the operation and staffing of assisted living facilities in Utah.
These rules and regulations are important also for those who are considering opening their own assisted living home or facility, as they outline what is involved, the level of commitment required on a daily basis to maintain good status with the State of Utah (not to mention the health and safety of residents).   
These rules can be changed or updated frequently so it is advisable to check back to these sections periodically to make sure you have the most recent updates to the state's regulations and administrative codes.