Learn about New Mexico's Assisted Living Regulations
How many times in your life have you been out and about, and have seen an 'office for Assisted Living Help" or perhaps a large, full-page entry in the phone book for a State Agency to help you to understand assisted living, and all of the rules, regulations, and health and safety issues involved?
Probably never, I would guess.
The reality is that Assisted Living is most often a complete mystery to seniors and their families, and the learning process begins, usually abruptly when somebody in the family needs care quickly.   
There's no time to look around the hundreds (if not more) websites out there trying to filter through to the actual, real sites and pages that can teach you what you need to know about assisted living.   
Each state is quite different when it comes to assisted living, and the rules and regs that guide assisted living facilities and homes in each state vary – sometimes dramatically.
Most often, it's very difficult for the average internet searcher to find a State's assisted living regulations and rules.     
Fortunately, if you are researching in New Mexico, the State's assisted living regulations are available to the public, and can be found on the State's Department of Health, and their Programs Operations Bureau page:
https://nmhealth.org/about/dhi/hflc/prop/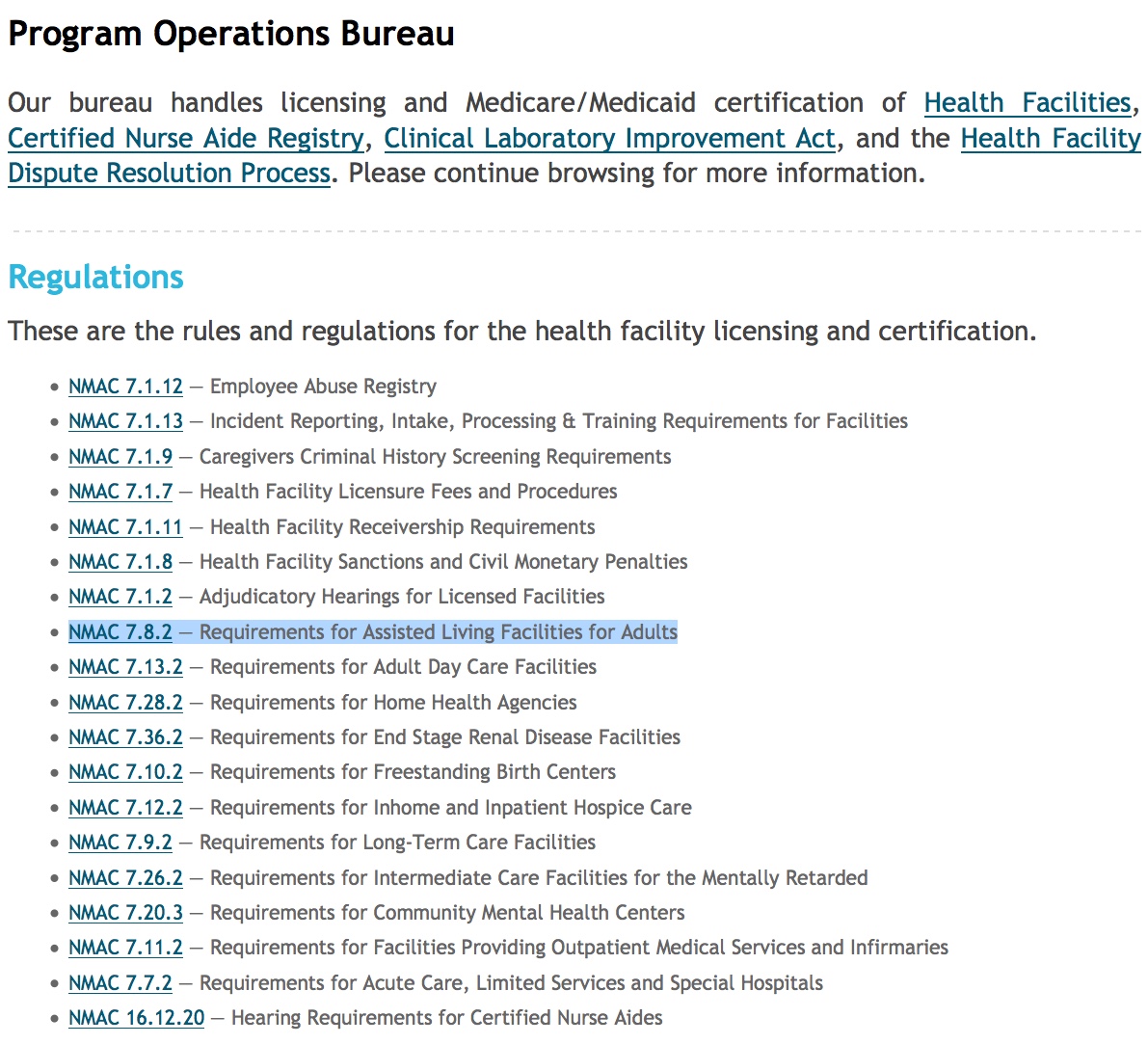 Within this page, you'll see a long list of Regulations and Rules for health facility licensing and certification.   A short way down the list, you'll see:
NMAC 7.8.2, which are the Requirements for Assisted Living Facilities for Adults.
This page, which is fairly long, offers a very detailed overview of the rules, statutes, and regulations for the State's assisted living facilities and care homes for adults.
I always like to point out 'definitions' and how the State defines 'assisted living' and related topics and areas, since each state's definitions can be very different from another.   Section 7.8.2.7 covers a multitude of definitions for assisted living including
Activities of Daily Living
Assisted Living Facility
Capacity
Licensing Authority
Waiver, or Waiver
and many more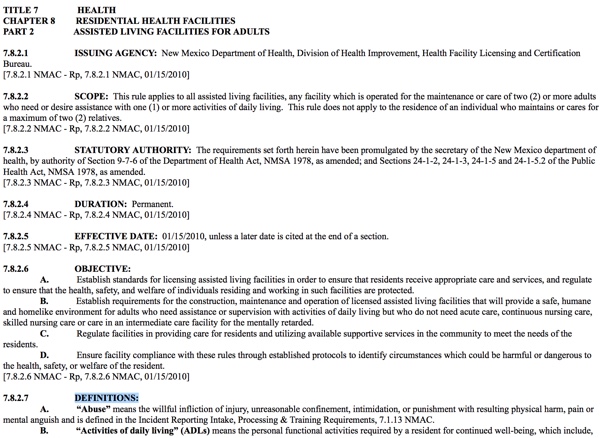 Additionally, this page/document covers the General Licensing Requirements for assisted living in New Mexico in section 7.8.2.8.
Other sections covered include:
Staff Qualifications
Staff Training
Policies
Staffing Ratios
Admissions and Discharge
Facility Reports and Records
Pets
Resident Evaluations
Individual Service Plans
Transportation
Handling of Resident Funds
Emergency Handling Procedures
Resident Rights
Nutrition
Smoking
Hospice
and much more.
Lastly, it's important to know that the State Agency responsible for the oversight and regulation of assisted living in New Mexico is the New Mexico Department of Health, Division of Health Improvement.   
This agency conducts the health and safety surveys for assisted living facilities, and ensure that the caregivers working in these facilities have the required background checks and screenings.    
If you are considering opening an assisted living home in New Mexico, it is imperative that you are intimately familiar with these rules and regulations, as they give a solid overview of the daily expectations and standards that will need to be upheld in your potential facility.