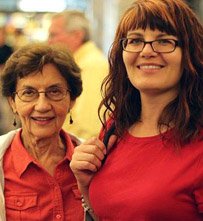 One thing that we hope you'll notice about our site, Assisted Living Directory, is that we genuinely want to provide the best information possible, in a trustworthy, honest fashion. This also means, aside from our own information, highlighting other good sites and agencies that will help you with your research.
For Roanoke, we highly encourage you to become familiar with Roanoke's Local Area Agency on Aging – which is the LOA (Local Office on Aging) which serves the 5th planning district of Virginia – including Roanoke.
Here you will find a great place to ask questions regarding senior care, and to get support if you, or a loved one are still living at home and need assistance such as meal delivery, transportation services, senior companionship, adult day care, and much more.
For those researching assisted living in Roanoke, we've listed the facilities in town on this page, and each may be contacted directly, and safely. Intro by D. Besnette
[Video] Learn Average Assisted Living Costs for Roanoke Virginia
Video Produced by Assisted Living Directory
Also learn how to compare costs in Roanoke to the State of Virginia average, and other cities!
Roanoke, Virginia – Assisted Living Facilities & Senior Care
Address: 4428 Pheasant Ridge Rd Roanoke, VA 24014
Phone: (540) 400-6482
866-315-1354Pricing & Availability
Map
Health and wellness programs
Informative seminars with guest speakers
Spacious floor plans
Full kitchens
Restaurant-style dining
Washer and dryer in each residence
Full-time program director
Activity/multi-purpose rooms
Beautiful mountain views with landscaped grounds and walking trail
Parking garage
Ice cream parlor
Library
Billiards
Pets are welcome
Assisted Living services available as needed in every apartment
Address: 1009 Old Country Club Rd NW Roanoke, VA 24017
Phone: (540) 344-7945
888-981-6827Pricing & Availability
Map
Address: 3804 Brandon Ave SW Roanoke, VA 24018
Phone: (540) 776-2600
866-981-5725Pricing & Availability
Map
24-hour licensed nurses/certified nursing assistants
24-hour security
Emergency response system
Three menu-selected meals each day in our gracious dining room, served to you by waitstaff
Special diets, snacks
Daily housekeeping
Weekly linen service
Medication management by licensed personnel
On-site access to rehabilitation services
Scheduled transportation to doctors and shopping
Physical, occupational and speech therapies
A variety of social activities
Address: 3585 Brambleton Ave Roanoke, VA 24018
Phone: (540) 765-1547
888-723-8284Pricing & Availability
Map
Retirement Living
Assisted Living
Short Stay / Respite Care
On-Site Rehabilitation
Address: 4435 Pheasant Ridge Rd Roanoke, VA 24014
Phone: (540) 904-4571
Assisted living at Pheasant Ridge is designed for senior adults who wish to maintain their independent lifestyle but may need some additional assistance to do so.
888-502-2057Pricing & Availability
Map
3 delicious meals served daily
24-hour specially-trained on-site staff
Engaging activities
Apartment maintenance
Weekly housekeeping and linen service
Scheduled transportation
All utilities paid* (Phone and Cable TV may or may not be included)
Emergency call systems in each apartment
Modern fire detection systems
"The Assisted Living private rooms at Roanoke United Methodist Home are licensed by the Virginia Department of Social Services. We offer four supportive levels of assisted living"
Address: 1009 Old Country Club Road Roanoke VA 24017
Phone: 540 -767-6800
888-502-2057Pricing & Availability

"Retirement Apartments for Independent Living with Assisted Living Services available"
Address: 4920 Woodmar Drive SW Roanoke, VA
Phone: 540-989-4601
888-985-4427Pricing & Availability
Map
Month-to-month lease
Freedom, security and peace of mind
Friendly, caring staff
Beauty salon/barber shop
24 Hour – 365 days a year on-site wellness staff
On-site rehabilitation services
Three delicious balanced meals daily
Housekeeping and linen service
Varied planned activities
Regularly scheduled transportation
Utilities, except telephone and cable TV
Address: 3585 Brambleton Avenue Roanoke, VA 24018
Phone: 540-772-7181
888-723-8284Pricing & Availability
Map
"Set on two acres of beautifully landscaped grounds with a courtyard and lovely gardens, Loyalton of Roanoke is considered one of one of the premier senior living communities in the Greater Roanoke area" Services and care options offered:

Assisted Living
On-Site Rehabilitation
Nursing/Rehabilitation
Retirement Living
Short Stay / Respite Care
Address: 327 Hershberger Rd Roanoke, VA 24012
Phone: (540) 265-2230
888-981-6827Pricing & Availability
Map
Address: 1007 Amherst St SW Roanoke, VA 24015
Phone: (540) 342-8861
"…offers residential care and assisted living in a lovely one story "home"
866-981-5725Pricing & Availability
Map
Address: 650 N Jefferson St Roanoke, VA 24016
Phone: (540) 345-5111
888-985-4427Pricing & Availability
Map
Assisted Living
Skilled Rehabilitation
Nursing Care
Additional Support
Virginia Department for the Aging
"The Virginia Department for the Aging fosters the independence and well-being of older Virginians and supports their caregivers through leadership, advocacy and oversight of state and community programs, and guides the Commonwealth in preparing for an aging population."
Phone: (804) 662-9333
877-345-1716Pricing & Availability

Visiting Angels
"Providing home care services in the Roanoke area"
Address: 2728 Colonial Ave Suite 4 Roanoke VA 24015
Servicing Roanoke County, Roanoke City, Salem and the Surrounding Areas