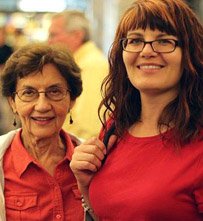 The intent of this page is to provide a starting point for your research into assisted living and senior care in Milwaukee. All facilities listed here may be contacted directly and safely!
Help for seniors living independently, and those living in assisted living homes:
Seniors living in Milwaukee, and their families, all have access to the services and assistance provided through the Aging Resource Center of Milwaukee County, as well as the local Area Agency on Aging.
The Milwaukee County Department on Aging also acts as it's local Area Agency on Aging, which utilizes federal funding to offer 'home and community based services and programs that affirm the dignity of older adults by supporting their choices for living in and giving to our community.'
The programs that are offered include: Alzheimer's Disease services (did you know that 100,000 Wisconsin residents are affected by Alzheimer's?); recreational and educational activities at the numerous senior centers in the Milwaukee area; Health and Wellness Programs; Transportation, and many others.
Both of these agencies/resource centers serve to assist, and benefit all seniors in Milwaukee, whether they are able to live independently, or if they live within a structured, long-term care environment. Intro by D. Besnette
Facility Complaints & Surveys for Milwaukee
Video Tutorial Produced by Assisted Living Directory
Quickly learn details of state surveys and complaints for Assisted Living Facilities, Adult Day Care Adult Family Homes, Community Based Residential Facilities and Residential Care Apartment Complexes – This is also simply a great, non-commercial way to research care options!
Milwaukee Assisted Living: Featured Facilities & Services
YOUR HOME ADULT FAMILY HOME IS LICENSED BY THE STATE OF WISCONSIN TO SERVE 3 ADULTS IN PRIVATE FULLY FURNISHED BEDROOMS. WE ARE LICENSED TO SERVE THE ADVANCED AGE, DEVELOPMENTALLY DISABLED, EMOTIONALLY DISTURBED AND MENTALLY ILL POPULATION.
1-877-616-7329Pricing & Availability

& Contact Your Home AFH Directly!
Milwaukee Assisted Living Facilities & Senior Care
Address: 5301 West Lincoln Avenue West Allis, WI 53219
Phone: (414) 615-7200
866-666-1057Pricing & Availability
Map
Assisted Living
Full Service Memory Care
Rehabilitation
Respite/Short-Term Stays
Skilled Nursing
Address: 2505 East Bradford Avenue Milwaukee, WI 53211
Phone: (414) 963-6151
Map
888-981-6827Pricing & Availability

"Senior Living Community with independent and assisted living apartments, memory support, rehabilitation and skilled nursing".
Address: 2505 E. Bradford Avenue Milwaukee, WI 53211
Phone: (414) 963-6151
888-981-6827Pricing & Availability
Map
"Located on 15 scenic acres in the heart of Wauwatosa. Established in 1989"
Address: Milwaukee, WI 53213
Phone: (414) 256-6800
877-644-2963Pricing & Availability
Map
Restaurant Style Dining
Coffee Shop
Library
Woodworking shop
Bank
Chapel
Wellness/Fitness Center
24-Hour Lobby Attendance
Community Garden Plots
Resident Business Center
"Residents of Milwaukee Catholic Home's Assisted Living can receive assistance with dressing, bathing, taking medications and other daily tasks. A service plan is created for each individual and may provide up to 28 hours per week of personal care. Staffing is maintained 24 hours a day. Nursing and supportive staff are available 24 hours a day."
Address: 2330 N Prospect Ave Milwaukee, WI 53211
Phone: (414) 220-4610
877-644-2963Pricing & Availability
Map
"Assisted living at St. Camillus is a network of service programs designed to meet differing levels of need in a safe, wellness-oriented and pleasant setting."
Address:10100 W Wisconsin Ave Milwaukee, WI 53226
Phone: (414) 259-4611
888-723-8284Pricing & Availability

Services and amenities include, but are not limited to:

Individualized service plan
24-hour security
24-hour staffing
Meals and snacks
Weekly housekeeping
Weekly personal laundry and linen change
Age/interest-appropriate activities seven days a week
Pastoral care/religious services
Wellness nurse
Medication management
Utilities, including heat/air conditioning
Apartment maintenance
Access to medical professionals
Address: 1840 North Prospect Avenue Milwaukee, WI 53202
Phone: (414) 272-2022
866-666-1057Pricing & Availability
Map
Address:7500 West North Avenue Milwaukee, WI 53213
Phone:(414) 258-6170
1-877-616-7329Pricing & Availability

Short Term Rehabilitation
Early Bird Memory Club
Adult Day Services
Memory Care Assisted Living
Skilled Nursing
Children's Center
Additional Support
Check out our tutorial highlighting how to learn facility inspections & deficiencies for Wisconsin statewide, including Milwaukee! This is a great, stand-alone research tool and database!
Local Milwaukee Certified CSA Senior Care Consultant
**My services are 100% free to every senior, family and caregiver that I work with!
It would be my honor to work they you (or your loved one) and your family to help you through the research process to find the absolute best care option available that fits your budget, your personal needs, and special circumstances.
I can help you through each, or every step of the process. It's my goal to save you time, and to guide you professionally with my experience, and knowledge of Milwaukee's assisted living facilities, Alzhiemer's care homes, and other senior care options.