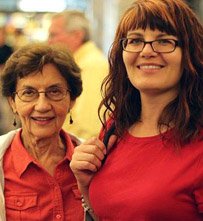 Assisted Living Directory iconIf you are researching assisted living, or any other type of long-term care facility in Kansas City, MO, you are extremely fortunate. Kansas City has some of the best state and local sites with facility data, senior and eldercare
programs, and places to go for support, or to just ask a question. We've highlighted two of these great sites and agencies on our video tutorial here.
The facilities listed on this page may all be contacted directly and safely.
Assisted Living Directory is also different in that we will highlight, or showcase other great sites with helpful information. We feel a great sense of responsibility in making sure our users know how to find the information they need, whether it's on our site, or another.
Great Places for support, facility info, and programs for Kansas City.
We can't say enough about the wonderful Local Area Agency on Aging for Kansas City, which is housed by the Mid America Regional Council (AAA). This highly useful site offers information on Caregiver Support; Meal Deliver for Seniors, transportation services, as well as help and guidance on choosing a Long-term care facility such as assisted living. Intro by D. Besnette
Tutorial] Facility Inspections & Complaints – Kansas City, MO
Video Produced by Assisted Living Directory
You can quickly and easily look up this essential information, including facility capacities, number of Medicare or Medicaid beds offered, plans of correction and much more!
877-644-2963Pricing & Availability

Kansas City, Missouri's Assisted Living: Featured Facilities
The Loving difference for our adult years is that we feel that each person should be treated as a member of a family. We also believe that our residents who need additional health care deserve the very best health care that can be provided. We feel that listening is a way to ensure that each resident maintains their individuality and feels like a part of the family.
With resident and staff testimonials, this video is very informative with numerous views of the interior and exterior of the facility.
1-877-616-7329Pricing & Availability
Features & Photos
Kansas City, Missouri – Assisted Living Facilities & Senior Care
9110 East 63rd Street Raytown, Missouri 64133
(816) 353-3400
888-723-8284Pricing & Availability
Map
4301 Madison Avenue Kansas City, MO 64111
(816) 931-4277
866-315-1354Pricing & Availability

8100 Wornall Road Kansas City, MO 64114
(816) 787-0120
877-644-2963Pricing & Availability
Map
Assisted Living
Skilled Nursing
Independent Living
501 West 107th Street Kansas City, MO 64114
(877) 712-9843
866-315-1354Pricing & Availability
Map
10000 Wornall Road Kansas City, MO 64114
(816) 942-0001
888-502-2057Pricing & Availability
Map
All Utilities Included Except Telephone and Cable
Dining Program with 3 Nutritious Meals Daily
Daily Housekeeping
Weekly Flat Linen Service
Transportation Available via Car, Bus or Van
Planned Activities and Entertainment
Active Living Programs
Support Groups
& much more!!
6500 North Cosby Avenue Kansas City, MO 64151
(816) 587-5700
888-985-4427Pricing & Availability
Map
Assisted Living
Memory Support
"Rockhill Manor Assisted Living is licensed by the Missouri Department of Health and Senior Services and the Missouri Department of Mental Health"
T4235 Locust Street Kansas City, MO 64110
(816) 931-2225
877-345-1716Pricing & Availability
Map
Additional Support

Get Up-To-Date Facility Pricing
Look Up Facility Complaints – Great, non-commercial database and search tool for Kansas City and Missouri Statewide – see inspections and complaints for each facility. This is a great way to learn how facilities are managed, and operated!