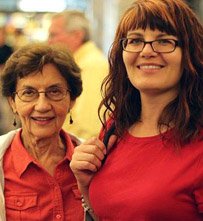 This page is dedicated to providing a highly useful and trusted starting point for your research into assisted living options in Charleston.
The facilities listed on this page may all be contacted directly, and safely!
We recognize that assisted living might not be the best, or only option available to those families and caregivers who are taking care of an aging love one with dementia or Alzheimer's – and at times, much of this care is done at home, or outside of an assisted living or long-term care environment.
Caring for a family member or loved one with Alzheimer's or related dementia can be extremely stressful, and can take it's toll on both the caregiver, and person being cared for.
We would like to make our visitors aware of the FAIR program, which is 'available in every county of West Virginia, offers relief to family caregivers and, at the same time, provides one-on-one attention and individualized activities for persons with a written diagnosis of Alzheimer's disease or a related dementia.
FAIR offers caregivers a chance to do the simple things in life that become difficult while caregiving – things like errands, appointments, and resting. To find our more about the FAIR program, please visit the Family Alzheimer's In-Home Respite page, or call the West Virginia Bureau of Senior Services at (304) 558-3317.