You may be wondering what this photo has to do with assisted living. Well, not much in a direct sense, obviously, but this photo did get me thinking about assisted living in a roundabout way.
I took a little trip up to see some of the fall foliage near where I live (can you guess where?). This beautiful location is just a little over an hour from where I live, in a large metro area. The drive is very easy, and the destination is within a well-known national park (I'd love to see who can recognize where this is).
Once I arrived at the park, and this location in particular, I was pleasantly surprised to notice how many senior citizens were there, as well as a number of folks who relied on wheelchairs to get around. This beautiful spot has numerous walking and hiking trails, many of which are paved to be able to accommodate those who are in wheelchairs, and to make it easier on those who are less mobile than us 'youngsters.'
The park has a marvelous free bus system that takes people around to the different points of interest, and plenty of bathrooms and facilities if they are needed.
I got to thinking about those many people back in the big city who live in assisted living homes, and wondering how many of those homes offer a transportation service for their residents. To me, this service would rank very high in terms of importance, and need, when it comes to services and amenities offered by an assisted living facility. Any facility that does not offer transportation might want to reconsider this omission, and think about the disservice they may be imposing on their residents.
I can think of numerous reasons as to why transportation would be important to any assisted living resident:
1) Transportation to and from medical and doctor's appointments: One can safely assume that most of, if not all assisted living residents will have many recurring appointments that they will need to get to, and from.
2) Shopping: Most people will need to do some sort of shopping periodically, whether it is for food, clothing, or simply recreation. Shopping provides an outlet for many people to socialize, to get 'out of the house' and a way to detach from the health problems they may be experiencing, or to shake up the routine a bit.
3) Rides to activity meetings, senior centers, or holiday events: Seniors need ways to keep plugged-in socially, as well as mentally and socially stimulated. Most cities and many towns have senior centers that offer many activities and opportunities to learn, participate, and engage. However, if getting to and from the local senior center and related activities and events proves to be challenging, seniors may be less apt to make the effort, or perhaps to assert themselves to figure it out.
4) Getting back into nature. My photograph above should say it all. I looked around at the expressions on the faces of just about everyone at the park on this particular day, and there was much happiness, excitement, and joy in the air brought on by the vibrant leaves, clean mountain air, and stunning scenery. Simply offering an excuse like this for people to forget about their health or other problems for a few hours is an invaluable service.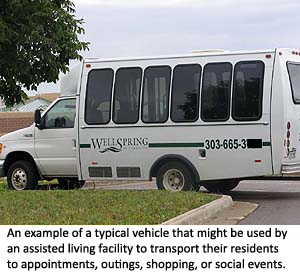 These are just a few of the reasons that transportation is such a valuable service for any successful facility. It would be quite a shame if any senior were not able to participate in the simple activity of enjoying the beauty of nature for an afternoon, simply because he or she does not have a ride. I applaud those facilities that offer transportation to their residents as part of their services, and I further tip my hat to those facilities that make the effort to offer activities, programs, and outings that take place off of the facility grounds….to places that inspire feelings of joy, happiness, and community.