An Overview of Louisiana's Assisted Living Regulations
If you don't know the rules, you can't act appropriately. 
I think this statement is true for each side of the fence – owners, administrators, caregivers and staff of assisted living facilities, as well as those residing in them, and their family members.
Assisted Living Regulations are put forth by each state to make sure that facilities operate in a safe way, maintaining the dignity, health and well-being of each resident.
These regulations are also a great tool and resource for families to be able to ensure that they or their loved ones are receiving proper care, that follows a set and specific set of standards, statutes and rules.
For Louisiana, there are several resources, and documents I'd like to highlight that provide insight into the state's assisted living regulations.
First, it's important to note that the State Agency responsible for overseeing and regulating assisted living in Louisiana is the Department of Health and Hospitals. 
http://new.dhh.louisiana.gov/index.cfm/directory/detail/702
The page looks like: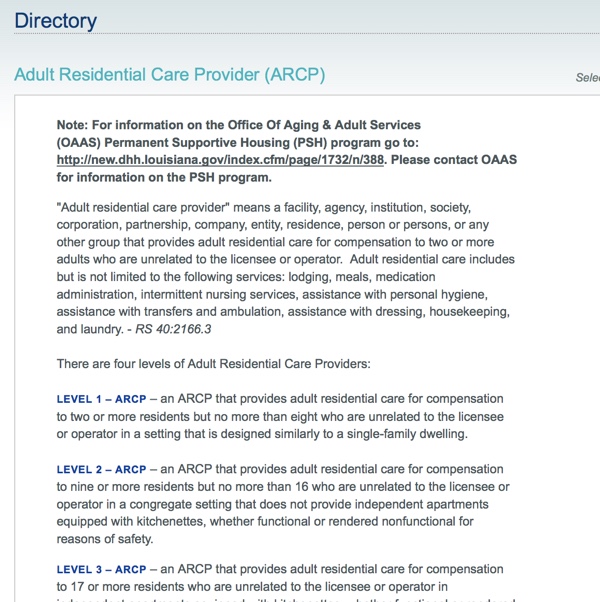 This Department, and associated website provides direction, information and contacts concerning assisted living regulations in Louisiana.   
You'll see a Directory of providers including:
Adult Residential Care Provider (ARCP) – you will also learn the four different levels of ARCP's: Level 1, 2, 3 and 4 – each providing different levels of care.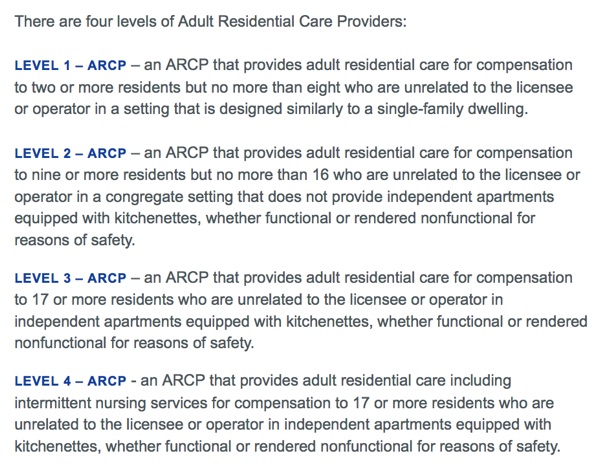 There is a specific section for regulations, that provides a Revised ARCP Minimum Licensing Standards – LAC 48.I.Chapter 68 (eff. 08/15/15) – Applies to all Levels 1, 2, 3, and 4.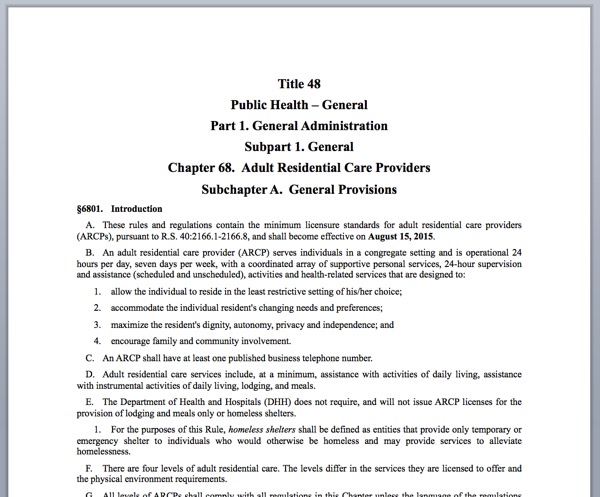 This is a document that can be saved, printed and opened with Word or similar programs, and is fairly comprehensive.  It includes general provisions, rules and minimum licensure standards for adult residential care providers statewide.   
There is also a section for Fees for assisted living (ARCP) providers, including license renewal fees, different licensure fees for the different levels/modules, and a per-unit fee.
You will also see a section for Licensure that includes a handful of links to documents including:
Initial Licensure

License Renewal

Key Personnel Change

Change of Ownership
Lastly, there is a section for Complaints (how to file a complaint) – there are a number of ways to do so including:
By Mail

Phone

Email

Fax and a

Complaint Form
A very helpful list of Adult Residential Care Providers statewide is included:
http://new.dhh.louisiana.gov/index.cfm/directory/home#c161
Selecting a facility in this list brings up further, useful data including the facility's license number, capacity, contact information and address.
These regulations, sites and documents are freely available to the public and should be bookmarked, or printed for easy reference.   
For those who are wishing to open an assisted living home in Louisiana, these rules, states and regulations should provide insight into what is involved with the opening and operation of an assisted living home.