Our interview with Destiny Arrington, owner of Precious Care assisted living facility.  In November 2011, we asked Destiny the following questions as part of our "5 Questions" interview series: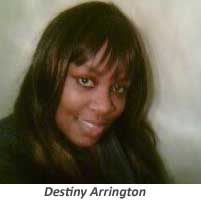 Q:    Please tell me about your assisted living / senior care business, where your business is located, and how long you have been working in the senior care industry.
A: Precious Care is Located in Detroit Mi, We have been in Business since 2008 we serve the mentally ill and Physically Handicapped. We have a license for (5) clients. We have trained staff; provide medication management, 3 meals plus snacks, all in a beautiful home setting.
Q: At what point in your life did you first realize you had an interest in helping seniors, and how did you act on that interest to achieve your goals?
A: I have an uncle who is mentally and physically handicapped –  when I was younger my mother had Guardianship over him, so I always use to visit him in many Group Home settings. When I became an adult I decided that I wanted to own a Group Home. My uncle was my first resident.
Q:  What were some of the biggest challenges, or obstacles you faced during your journey to realize your dream of becoming an assisted living facility owner, and what have some of the most profound rewards been?
A: Some of Assisted Living biggest challenges are hiring good, dependable staff who truly love helping people in need. Also, making sure everyone is active and happy. Some of the most profound rewards is knowing every night that you truly helped someone in need.
Q: What do you think the most important aspect, or quality of an assisted living home is?
Does it feel homey to you? This is a personal preference. Do you prefer a smaller, cozier environment, or would you rather be in a larger, bustling place with more activities? Is outside design, such as gardens or other greenery, important to you?
Does the facility offer activities you're interested in? Are there hobbies or activities on site, or transportation available to outside ones? Does the facility have amenities that are important to you such as a gym, recreation center, library, or a chapel?
Is the food appealing to you? Do you have the option of eating in your room if you would like to? What kinds of food are served? Is it nutritious and appetizing? Are their different food options available?
How are health problems handled? How does the facility handle both emergency and non-emergency problems? If you develop a medical condition, will you be able to remain at the facility? At what point would you be required to move elsewhere for medical care?
Is the facility in compliance with state and local licensing requirements? Each state has different standards, so you will want to check with your local regulatory agency to make sure that the facility is licensed and in compliance. You can also check the Better Business Bureau to see if any complaints have been lodged against the facility.
Q:  What advice would you offer to families just starting their search for an assisted living home for a loved one?
A:   As you start your search, try not to get overwhelmed by all the options. Remember, amenities   matter much less than the residents and staff. It's the people that truly make any place, including an assisted living facility. You can tell a lot about a facility by the people who live and work there. You want a facility with an active social atmosphere—where the residents are friendly and the staff is caring and warm. Make sure that, overall, you feel the facility is a place where you will fit in and develop new relationships.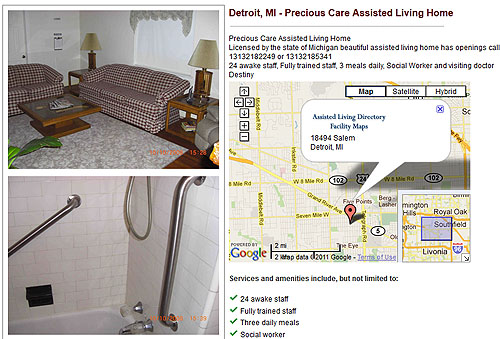 Please visit our  Precious Care Assisted Living  page in our  Assisted Living Directory to find out more about Destiny's home and business!
Our thanks and gratitude to Destiny Arrington for sharing her expertise and insight, and for participating in our "5 Questions" series!