Without a doubt,  Florida is one of the best, most transparent states to research assisted living or residential care in.   Not every state is like this – not by a longshot.  Some states offer next-to-nothing in terms of public records, facility lists, and documentation for assisted living facilities and homes.
One of the things that I know families and caregivers find useful is a printable and downloadable list of facilities that they can write on, take notes on, and carry with them as they tour facilities.
If you are researching care in Daytona Beach, I'll show you a quick and easy way to get a list like this: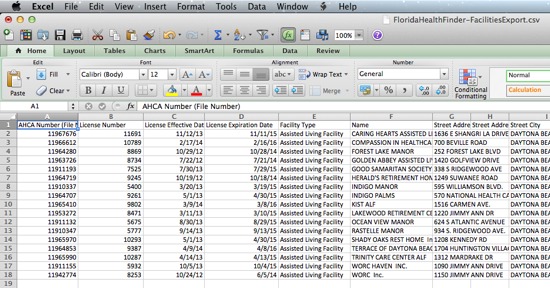 Or like this, which is printable: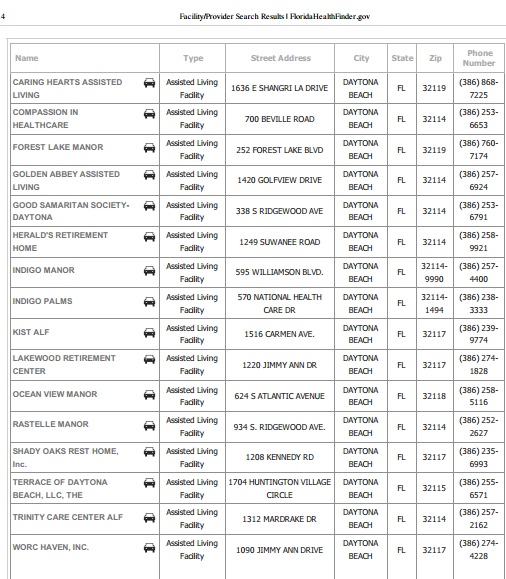 Simply go to to to the Florida Health Finder facility search tool:
http://www.floridahealthfinder.gov/facilitylocator/facilitysearch.aspx
Then select 'assisted living facilities' and enter Daytona Beach for the city, and you should get a complete list of licensed facilities.  You'll see a selection for print, or export to excel:

From there you should see your list (which, clicking on each facility will bring up those valuable inspections and citations reports, and whether the facility is for profit, or not-for-profit).
These lists include the facilities direct contact numbers (something that many commercial senior care sites omit – a questionable tactic) and licensure information.