By Regina Woodard for Assisted Living Directory

An overview of Medicaid Programs and Help available in Kansas for seniors, including KanCare, PACE, HCBS/PD and the Frail & Elderly Program.
When most people think of the state of Kansas, our visions are usually based on what the entertainment industry has provided us – it's where Clark Kent (aka Superman) grew up with his adopted parents; it's the name of a popular rock band from the 70's and 80's; it's where a young Dorothy Gale was swept away to a magical place called OZ.
In reality, Kansas has a very rich history within the US – named after the Kansa Native American tribe, the state became a hotbed of violence in the 1850s over slavery, before the state was officially entered into the Union as a free state in 1861. The former prairie was turned into productive farmland, which now makes Kansas one of the most productive agricultural states, with high productions of corn, wheat, sorghum, and sunflowers.
For elderly residents here, Kansas has made some sweeping changes to ensure help and resources are provided to those on Medicaid. Here are just some of the programs Kansas offers.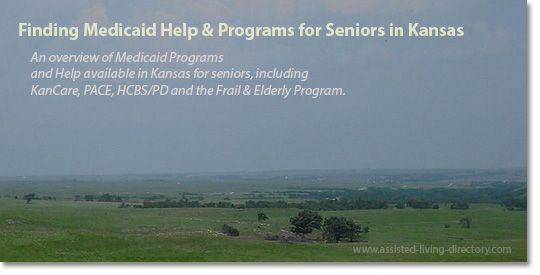 KanCare
KanCare provides Medicaid to those individuals who are eligible for the service. Beginning in 2013, KanCare has been able to provide services to more than 360,000 individuals across the state, contracting with three health plans in order to manage health care for the majority of Medicaid recipients.
Home and Community Based Services
The Home and Community Based Services or HCBS is a program that provides services for those with disabilities. All services that are provided are done through the HBCS, as part of the KanCare program.
Frail Elderly
The Frail/Elderly program offered by the HCBS – often abbreviated as HCBS/FE – helps to provide for Kansa seniors who are looking for an alternative to nursing facilities. FE helps to promote independence within the community and offers residencies in an integrated environment. Individuals who choose to live in an assisted living, residential health care, home plus, or boarding care facility can utilize the program to pay for services that are delivered.
Some of the services offered include –
Adult day care
Assistive technology
Person emergency response
Medication reminder
Attendant care services (level I and II)
Another option is that of self-directed care, which allows for individuals to live in a less restrictive environment and direct their attendant care services. An assigned case manager can help determine what will be essential to the health and welfare of the individual.
To be eligible for FE, individuals must be 65 years of age and meet both the Medicaid income eligibility guidelines and the long term care threshold.
PACE
The Program of All-Inclusive Care for the Elderly, or PACE, is designed to promote the quality and comprehensive health services for older adults, coordinating professional primary care physicians and an interdisciplinary team. Earlier this year, the program expanded to the counties of Nemaha, Marshall, and Lyon to their current seven county listing.
PACE services include most of the covered services under Medicare and Medicaid, including –
Primary care
Hospital care
Prescription drugs
Emergency services
Home care
Adult day care
Recreational therapy
Meals
Social services
Transportation
To be eligible for PACE, individuals need to be 55 years old or older, live in a PACE service area, be certified by the state of Kansas for meeting the need for nursing home levels of care, and be able to live safely in the community you reside.
Physically Disabled
The Physical Disabilities program, or PD, is for individuals who are physically disabled and meet the criteria for nursing facility placement. PD offers services such as personal and assistive services, sleep cycle support, and personal emergency response systems, as well as installation of those systems.
To be eligible for PD, individuals must be between the ages of 16 and 65, have been determined disabled by the Social Security Administration, need assistance in order to perform normal day activities, and meet the nursing facility threshold set by Medicaid.
Traumatic Brain Injury
The Traumatic Brain Injury, or TBI, program is for those who have suffered a traumatic brain injury. The program helps to keep individuals within their homes, with services provided to help care for the injury sustained. TBI is considered part of a rehabilitation program for individuals, allowing them to receive therapies and services which can help them rely less on support as their independence increases.
In order to qualify for TBI, individuals must have a traumatic brain injury, be between the ages of 16 and 65 years of age, meet the TBI rehabilitation placement criteria, and meet the financial guidelines set by Medicaid.
These are just some of the programs that are offered by the HCBS, though it's always best to check with program managers to decide the best course of action for you or your loved one. To contact a member of the Kansas Department for Aging and Disability Services, call 785.296.4986.
In the middle of April, the KDADS will be hosting a HCBS 2015 Educational Submit that will give the public the ability to learn more about HBCS topics and programs. The event is totally free and is set for Monday, April 13th and Tuesday, April 14th. For more information, you can visit their Save the Date Form.
Resources
Kansas Department for Aging and Disability Services
Join our Google+ Community & Discussion Group!