Most states have jumped on the bandwagon of transparency, and accessibility when it comes to offering assisted living facility inspections and violations reports online to the public.
(Return to, or visit Assisted Living Directory's Arkansas page).
Unfortunately, Arkansas has a ways to go in this area, as only basic information about facilities is available online.
The State of Arkansas does have a Long-Term Care Facility search tool on their Division of Medical Services site.
Here's a sample of the facility list you'll see (the link to this tool is below).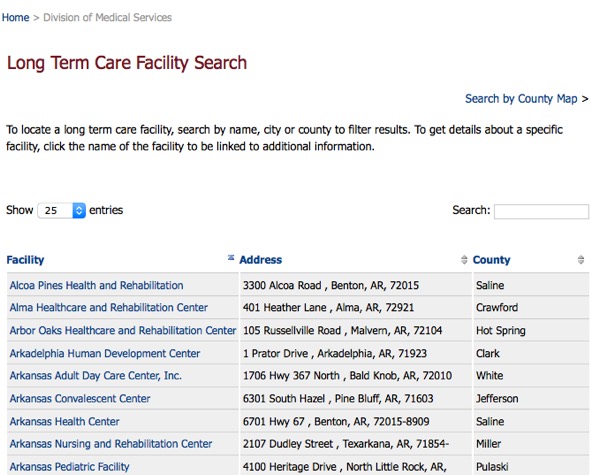 http://humanservices.arkansas.gov/dms/Pages/ltcFacilitySearch.aspx
However, when you select a facility, only very basic information is included, and unfortunately (unlike many other states) facility inspections, surveys, and violations are omitted.
Here's a sample of the information provided: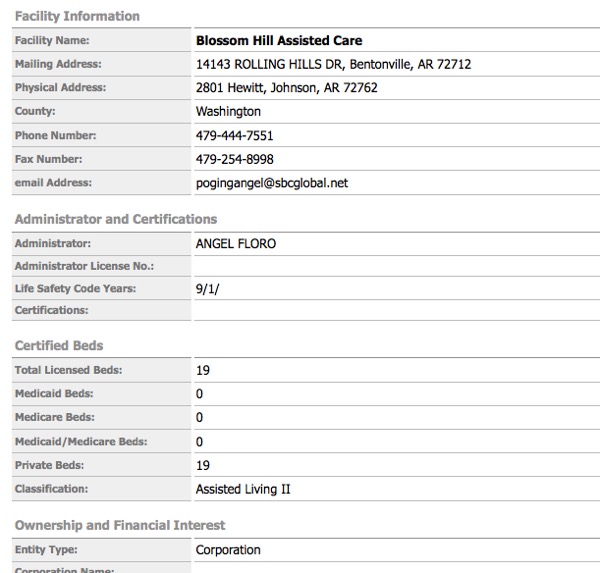 So, how does a family, senior or caregiver learn about how a facility has fared on state inspections, and if they've had any violations?
Well, it can be done (sort of) but it isn't easy.
There is a helpful page explaining the process on the same Division of Medical Services site:
http://humanservices.arkansas.gov/dms/Pages/oltcViolationReports.aspx
It is specific to nursing homes, and the inspections are conducted by the Office of Long Term Care.
A sample of the information provided: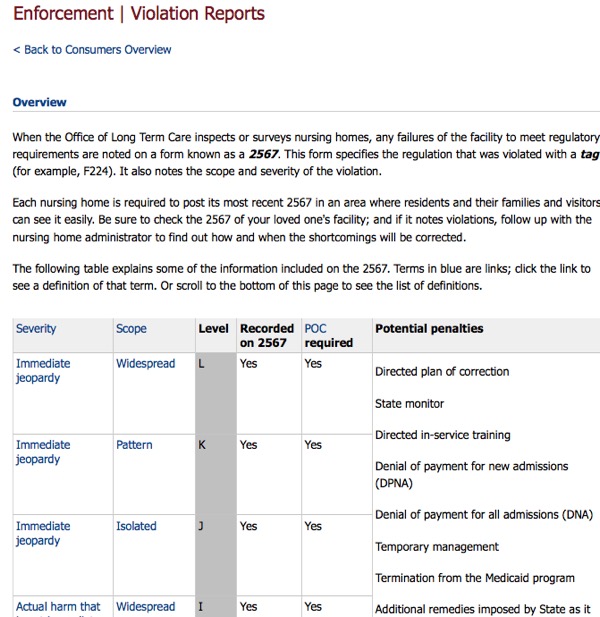 Basically put, when a facility has any failure or does not meet regulatory requirements, these issues are noted on a form known as 2567.
This form will detail the violation, as well as the scope and severity, and the specific regulation that was violated (usually by a code).
Each facility is required to post it's most recent 2567 form in a visible, common area of the facility where family and visitors can see it.
If you can't find it, ask the owner or administrator to see it.  They will be able to provide it for you.  If they don't, we recommend contacting the Office of Long Term Care to see if they can help you to get this information.
If a facility refuses to provide this information, it should obviously be a red flag.
These violations reports (the 2567) should help you to come up with questions to ask the facility about it's issues or shortcomings – to help you understand how, and when they will be corrected (and why they occurred in the first place.