I learned a new term today – the "Silver Tsunami" which has been coined by the Alaska Commission on Aging that refers to the expected influx of seniors and retirees to Alaska, on top of this state's already rapidly aging population (did you know, that Alaska has the fastest growing percentage of seniors in the country) – a statistic that surprised even me.
Who would have thought, given that the common perception is that warmer, sunbelt states have the pull of seniors coming their way – a perception that is not accurate.
According to the Alaska Department of Labor – "the number of Interior Alaska residents age 60 or older more than doubled from 2000 to 2012, from 7,169 to 15,228."   This department has a very robust .pdf detailing Alaska's Population Projections that is worth a look.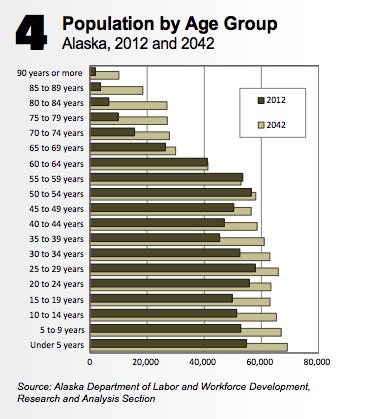 Additionally, the State, according to the Commission on Aging, is wholly unprepared to provide for these seniors and the aging population in terms of assisted living beds, and availability.
Take Fairbanks for example. There are, at this time under a half-dozen assisted living facilities serving a population of over 100,000, of which over 7% are seniors.  May not sound like a huge percentage, but for only 11 facilities to serve thousands of seniors, there certainly is a growing issue.
So why the assisted living shortage?
According to a recent article in Newsminer and a quote by an assisted living owner Candy Caroll, ""There are not enough facilities, and the state does not compensate assisted-
living facilities."  She goes on to say "The state does offer general relief funds for living facilities, but at $80 per day per person, the assistance is minimal. "
Whatever may be available is almost always preceded by a long waiting list for most facilities.This obviously makes it difficult for new facilities to get off the ground, and to keep up with the expanding senior category.
On our site, Assisted Living Directory, one of our most popular pages is our "How To Open An Assisted Living Facility" where hundreds of people have commented over the years – often times aspiring facility owners wanting to open their own home.
It's a long, difficult and expensive road, and for Alaskans, this is certainly the case.   Spending thousands upon thousands on the actual home, equipment, "beds, the furniture, the sprinklers, the insurances, and then, after all that, do you have any money even for staffing?"
Some facilities can take years to open from the initial idea or concept to the first resident.
There's no sound advice for families, seniors and caregivers at this time looking for assisted living in Alaska, other than, if possible, plan early and explore alternative options such as in-home care.