Eons ago, I worked as a hospitality manager up in the mountains of Colorado for a glitzy resort.   It was unfortunate and downright miserable work (that was my experience, but some people really seem to enjoy 80 hour work weeks), but during that time, I took away a few good nuggets of wisdom and word-smithing.
The general manager of the hotel during my last stint of gainful employment at this resort would have weekly meetings with all of his managers.  He was a French fellow, and was the just about only normal, sane, and insightful person that I worked with during that period.  He was downright funny, with his French-turing-American accent, and his slicked back hair.  He always had a grand smile, and a nice word to any employee walking by.
It was during one of our weekly management meetings that he sat everyone down for his weekly tidbit of wisdom – this one I took away and have remembered ever since.
Leaning forward to address his legion of overworked managers, he said "We have too many Swans here."   Of course, nobody knew what he was talking about, until someone asked the obvious.
HIs elaboration was –
"The Swan-style of management is one where you are hardly ever seen, until you swoop in on your staff, dump you sh– (rhymes with 'sit'), and then take off on your merry way."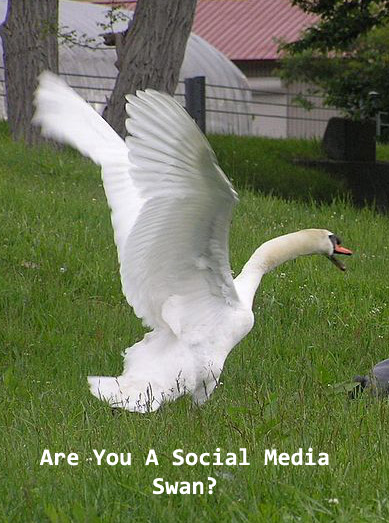 "We need more Penguins" he said.   Penguins spend time with their staff, nurturing, sharing, developing a sense of family and community.
I agreed, as did everyone else.  Unfortunately, though, old habits are hard to break.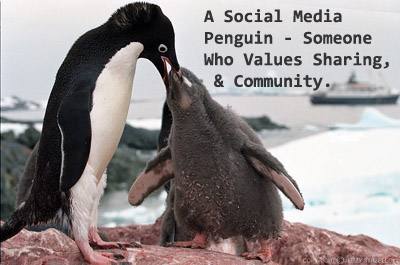 I've thought about his Swan/Penguin analogy a number of times, especially as I am doing 'social networking' stuff – facebooking, google-plussing, twittering etc.
I've noticed something.  Those people that have a significant presence on any of those social platforms, and who have plentiful followers, likes, plus-ones, and comments – are the Penguins of the group.   These are the folks, and companies who spend time reading other peoples' posts, who comment, share, and nurture the works and efforts of others.  These are the people who are successful social networkers.
Then, there are the Swans.  These are the people, companies or entities, that don't spend much time or effort on the social front,  However, from time to time, they'll swoop in, dump their "sh–" (rhymes with sit..as we know), and then take off, not to be seen again until the next dumping.
I've noticed too, that these people, the swans, always have very few 'likes, plusses or tweets' and their posts, and efforts seem to be largely ignored.
In my niche, I am amazed that some of the bigger, national companies out there aren't more successful with this.   One example is Sunrise Senior Living – They have a Google-plus page, and they'll post something about every day or so – but they never comment, like, or support anyone else.  For that, they don't seem to be getting very much traction or interest.
For a company with such deep pockets, and such a wide reach, I am surprised that they haven't figured out how to do better with their social pages.   I've liked and commented on a number of their posts in the past, only to be met with silence, so I've stopped wasting my time.  There are many others like this that I see, Swan-diving their way to social irrelevance.
I'm not saying that I've totally figured it out yet – but I do try, which really isn't much of an effort.  I enjoy the networking, interaction, and 'meeting' new people out there, and learning about their stories and businesses.   I comment, like and share freely, and I've noticed that my following, likes, and plusses rise steadily every week.   People know me by name, and I've earned some social respect out there.
There's still much to learn, but that's the fun part for me.   I'm happy being a Penguin.