Additional Senior Care Options for Las Vegas
***Tip*** - are you unsure of the size of facility you would be most comfortable in? There is a big difference between the larger, more corporate-style facilities, and the smaller, more residential homes. Assisted Living Directory interviewed a facility administrator about his views on the benefits of smaller residential facilities over larger properties.
*Additionally - did you know that by choosing the map for each facility below, you'll be taken to a 'street view of a facility' & exterior photo of the facility, and can also take a 'virtual drive' down the neighborhood? It's a great way to see each facility, and the surrounding area!
See facilities in Henderson
Join our Google+ Community & Discussion Group!
Learn More
Atria Seville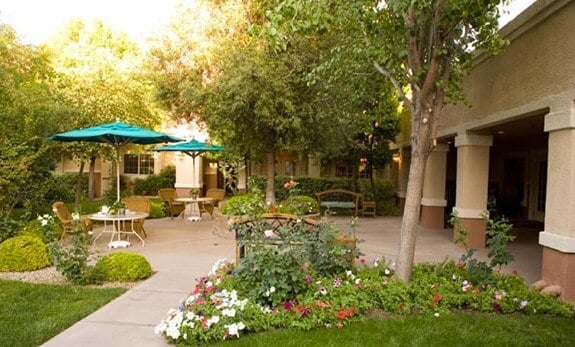 2000 N Rampart
Las Vegas, NV 89128
(702) 804-6800


Independent Living


Assisted Living
Map

Charleston Retirement & Assisted Living Center - Las Vegas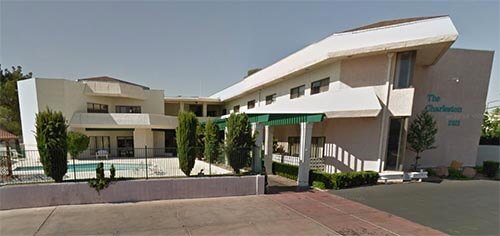 2121 W Charleston Blvd
Las Vegas, NV 89102-2298
(702) 382-7746
Map

Concorde Assisted Living - Las Vegas
"We are committed to providing assisted living housing, personal care and other comprehensive senior services that are responsive to the needs and preferences of our residents and their families, at an affordable cost."
Amenities include:



24-hour staffing


All Utilities except telephone


Emergency Call System


Scheduled Transportation Service


Access to on-site Hair Salon


Library and Theater-style televisions


Social Lounges and Activities Spaces


Easy Month-to-Month Rental Agree ment


Three meals served daily


Restaurant style dining room


Specialized diets available


Pharmacy service available


Ample Parking


Private Dining Room for special events


Professionally maintained grounds


Personal care plans available


Medication Management Available


Weekly linen service included


Weekly Housekeeping Included


Extra Laundry Service Available
2465 E Twain Ave
Las Vegas, NV 89121
(702) 732-0020
Map

Desert Springs Senior Living [Video]
Heritage Springs - Memory Care and Assisted Living - Las Vegas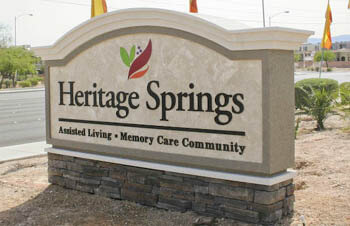 "Heritage Springs provides Assisted Living, Memory Care, and Respite Care services. Great location, beautiful apartment homes and a commitment to providing a quality lifestyle..."
2205 East Harmon Avenue
8720 W. Flamingo Rd.
Las Vegas, NV 89147
More Information
Map

Palms Care Home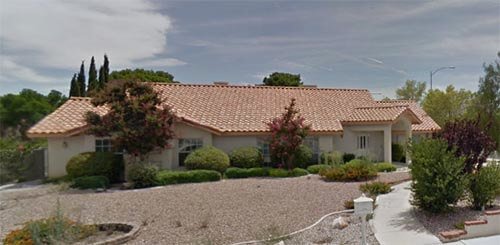 Palms Care Home is a friendly and caring facility. Palms Care Home can take care of Chronic Illness, Mental Illness, Elderly, and Disabled. It is located in NW Las Vegas in the Centennial Area.
8351 West Hammer Ln
Las Vegas NV, 89149
tel. 702-570-7598
Map

Prestige Care, Inc. Assisted Living at Henderson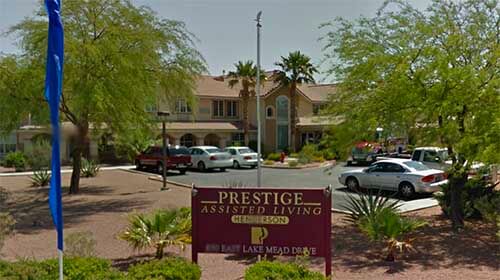 This property is located within a residential neighborhood in Henderson. It is easy to get to, and close to shopping, medical facilities, dental clinics, and a skilled nursing center. Getting around Henderson and the Vegas area isn't a problem, as this property is convenient to public transportation.

Many of of the senior apartments have a wonderful view of the mountains and the Vegas Strip skyline.

There are 60 units ranging from spacious studios to 1 and 2 bedroom apartments. 16 of these apartments are in Expressions - for Alzheimer's and dementia care.

Other services include: health monitoring by a Registered Nurse, 24 hour care staff, medication assistance, behavior management, ambulation assistance, dressing assistance, and hospice care.

Located at 1050 E. Lake Mead Dr.
For more information:
Phone: 702.564.1771
Map

See More Facilities in Henderson
Plaza-Sun Mountain Assisted Living
"Sun Mountain is Nevada's first continuing care campus for senior citizens offering independent and assisted living apartments, and skilled nursing accommodations, in one conveniently located and beautifully appointed neighborhood."

6031 W Cheyenne Ave
Las Vegas, NV 89108-4200
Map

Rose Cottage Memory Care - Las Vegas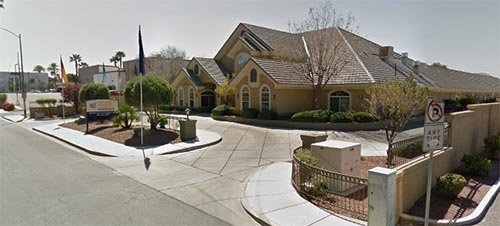 4025 S. Pearl
Las Vegas, Nevada 89121
702.433.1994
Adult Day Care, Overnight Respite & Residential for Alzheimer's & other forms of Dementia.
Map

The Bridge at Paradise Valley - Las Vegas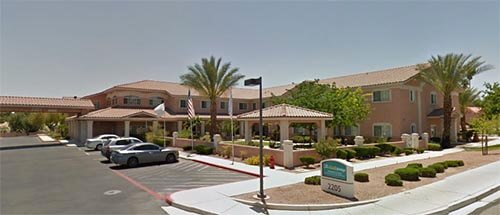 "The Bridge at Paradise Valley is a premier retirement and assisted living community in the heart of Las Vegas where comfort and luxury abound! "
2205 East Harmon Avenue
Las Vegas, NV 89119
Phone: (702) 369-6964
Map

The Elderly Aristocrat - "Family Style" Assisted Living for the Elderly - Las Vegas
"Family style means a small service rich environment such as a home or facility with only five or six people...."
Flamingo & Eastern Area
2380 Mohigan Way
3700 Tioga Way
Las Vegas, Nevada 89169

Get Facility Pricing, Information & Eligibility Requirements - Or Just Ask A Question!
If you need help with any aspect of your research, or if you are just feeling overwhelmed by all of the choices available, I really recommend using our advisor service here.

It's free, and the folks (like Alice) that will help you are very qualified, courteous and helpful.

David, our site's editor, can vouch for the services provided personally - when his mother-in-law needed care, and he needed help finding it.

You can read about his experience using this service in our blog.

This service is especially helpful if you are doing senior care research for a friend or loved one remotely (from outside of Las Vegas).

Our advisors are trained and qualified to help you, and to answer your questions about assisted living and long-term care.

We have helped thousands of families and individuals, and we can create a tailored list of senior care options in Las Vegas or Henderson that match your needs, budget, health conditions, and personality!.

If you need help, I encourage you to give it a try - they can answer so many of the questions you might have, and can offer personal 1:1 help finding assisted living in Las Vegas if you need it.

Assisted Living Facilities, Senior and Long Term Care in Las Vegas, Nevada (NV)