Assisted Living Directory -
Facilities Information & Senior Care Since 2005

***One of the differences between Assisted Living Directory and many other senior care sites is that we allow facilities to be contacted directly, and safely. Any licensed facility in good standing may appear on our site. Our editors and contributors have been through the process of finding assisted living for our own family members, and we work hard to share our experiences and expertise with our users! We also provide trusted ways for you to get additional help, should you need it!
We are in an exciting and important time for assisted living!
Millions of baby-boomers are getting ready to retire (if they haven't already), and although many of these people are healthy and in great shape, there are many thousands in each state who
Video Produced by Assisted Living Directory
This is one of our most popular videos - a facility owner who discusses her dreams of opening an assisted living home! This video shows that there are
passionate and dedicated people
in the assisted living industry!
Our YouTube videos have over 115,000 views!
Subscribe to our YouTube channel!
have health issues that make them require assistance in one form or another. This assistance may be simply needing help with day to day tasks such as personal hygiene, or paying bills. Maybe getting around town isn't as easy as it used to be, or help is needed with shopping for groceries.
On the more serious end, there are millions of people that have debilitating diseases such as Alzheimer's disease or other forms of dementia. These people need around-the-clock supervision, medication management, and help with just about every daily activity.
This is where an assisted living facility can help.
Assisted Living comes in many forms and settings, with widely varying degrees of services, amenities and cost, depending on the facility. An assisted living facility may be in a more rural or country setting that is very home-like. On the other hand, an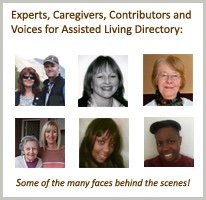 assisted living facility may look more like an apartment complex, or even a hospital. Definitions can also vary as to what assisted living actually is, and there are different requirements for licensure and different laws governing assisted living facilities from state to state.
Assisted Living Directory lists numerous facilities and, at times, other senior care options, organized by state, and then by city. We recommend that if you are looking into assisted living for yourself, or a friend or loved one, that you take ample time to research each facility thoroughly. Visiting the facility you might be interested in is also of utmost importance, as well as checking health and safety records and possible violations that have occurred with the facility.
Assisted Living Directory does not endorse any particular facility on the site. Although we deem all of the information on this site as reliable, it is in no way guaranteed. Facilities are updated or change frequently. Some facilities may also go out of business. If you find any informational errors on our site, please let us know! Our site is intended to be a starting point for your research.
Assisted Living Directory strives to make quality online advertising for assisted living accessible for assisted living facilities of any size.
Assisted Living is an industry that can be prone to abuse, questionable practices, and misinformation. Please view our top tips and advice for anyone searching for assisted living - based on our 9 years of having an online presence in this industry, so you may have a safe, positive experience.
We wish everyone the best in health and happiness.
Assisted Living Directory's Youtube Channel - 115,000+ Views and Counting!
We do facility tours, facility owner interviews, and assisted living tutorials. Our specialty is teaching our users how to look up facility inspections, citations and violations reports!

We are so grateful for and honored by new subscribers! It really inspires us to continue providing our tutorials and interviews!
Contributors, Experts, and Voices of Assisted Living Directory
Some of the many industry experts and caregivers who contribute regularly to Assisted Living Directory, and those who have shared their expertise with us via articles, interviews and videos.

Trish Hughes-Kreis Trish Hughes Kreis is a freelance writer and full-time Legal Administrator who advocates on behalf of her disabled youngest brother, Robert, in order to keep him as healthy and happy as possible.

Robert has lived with intractable epilepsy his entire life and was recently diagnosed with Cumulative Traumatic Encephameylopathy and Parkinsonism (both due to repeated concussions and a lifetime of uncontrolled seizures). Robert now lives with Trish and her husband, Richard. (Learn more about Trish on her bio page).

David Besnette is the founder, owner and editor for Assisted Living Directory. David has taken his love for producing videos and writing, and researching to seek out experts in the senior care industry, so they may share their expertise about assisted living and long-term care. Many of his interviews and videos can be seen below, and throughout the site.

Regina Woodard - Regina has been a freelance writer for a number of online publications and in topics such as healthcare, technology, computers, and gaming. She is currently the office manager and social media manager/web admin within the senior space. An avid writer and geek of useless television knowledge, Gina shares her freelancing experiences through her blog and fights for futuristic rights as an agent of S.P.A.N.T.E.N.N.A

Tim Colling - Tim Colling has more than 30 years of experience in management in a variety of industries and has served in the past as a member of the statewide steering committee for the Homecare Aide Section of the California Association for Health Services At Home ("CAHSAH"). He is a Certified Public Accountant (licensed but not actively in practice), and received his Bachelor's Degree in Accounting from California State University at San Diego. He holds the credential Care Manager Certified ("CMC") from the National Academy of Certified Care Managers, and is actively in practice as a professional geriatric care manager.

Harriet Hodgson, BS, MA is the author of 31 books, including Smart Aging: Taking Charge of Your Physical and Emotional Health, Alzheimer's, Finding the Words: A Communication Guide for Those Who Care, The Alzheimer's Caregiver: Dealing with the Realities of Dementia, and Help! I'm Raising My Grandkids: Grandparents Adapting to Life's Surprises.

Lisa Hirsch -

After spending many years in the fashion industry, I recreated myself as a blogger/writer after my mother develped Alzheimer's. My mother inspires me each day with her strength, humor and courage. She has truly become my hero. My writimgs are about the experience of being a caregiver, and our journey together.Since my mom became ill, our relationship has transformed into a touching and inspiring love story between a mother and daughter.

I am truly committed to spreading awareness.

Joelle Besnette has contributed to Assisted Living Directory in many ways, offering her insights and experiences with long-distance caregiving for her mother who fell ill, and needed care and assistance from family, all of whom lived in other parts of the country. Sadly, Joelle's mom has passed away. However, Joelle has been able to share many of her experiences and insights through her contributions to, and ideas for Assisted Living Directory.

Rev. Maria Dancing Heart Hoaglund has authored numerous books about death, dying, and grief. She has served as a bereavement coordinator for a hospice program as well. Maria has contributed her thoughts, wisdom, energy and experience to Assisted Living Directory in many ways. You can view her work, and more about Maria on her Creating Courage Around Death & Dying information page, and our book review The Most Important Day of Your Life: Are You Ready?

Destiny Arrington owns an assisted living home in Detroit. Destiny knew that she wanted to own a Group Home from a very young age. Destiny has offered her expertise and experience for us on a number of topics, including staffing, challenges, obstacles and rewards with owning and operating a senior care home. Read Destiny's insights into these questions and more!

Linda Brendle retired from the business world after 40 years of administration and sales in various industries. She cared for her mother and her father, both of whom suffered from dementia, for 15 years. Her caregiving ranged from an occasional visit to their home to caring for them in her own home and finally to helping her brother to oversee their care when they moved to an assisted living facility.

Jayme Kinsey - Jayme Kinsey is a freelance writer with over ten years experience caring for the elderly and mentally disabled adults. She has worked in care facilities as well as in the home setting as a companion. She also volunteers time with the elderly, and enjoys interviewing senior citizens about their opinions on current issues. Currently, Jayme is part of an extended family caregiving team for her 95 year old grandmother. The majority of her online writing is devoted to helping the elderly and their caregivers.

Dr. Maria De Leon, MD - Dr. Maria De Leon is a retired movement disorder specialist, free lance bilingual writer with special interests but not limited to issues concerning and impacting the growing geriatric population. She advocates for all Parkinson's patients and their families around the world as both a patient as well as a research advocate in her role as member of the People with Parkinson's Advisory committee (PPAC) for Parkinson's Disease Foundation (PDF)...

David Virden - David has over 20 years' experience as a writer and editor. Senior issues have long been his passion, and in addition to past experience writing about maintaining a healthy outlook throughout every phase of life, he has volunteered his time and skills to such organizations as Senior Services of King County in Seattle.

He is one of the many expert authors who is currently writing on behalf of Emeritus assisted living communities.




Could This Be You? Assisted Living Directory is always looking for people who are experienced or knowledgeable with senior care, caregiving or of course - assisted living - to share their stories, guidance and insights.

If you would like to be considered as a contributor for Assisted Living Directory, please let us know by introducing yourself!

Thank you for your interest!
Join our Google+ Community & Discussion Group!
Original Videos by Assisted Living Directory
[Video] Our Video Tour of New Day Cottages with Family & Resident Testimonials (October 2014)



Videos by Assisted Living Directory
[Video] Our video Usability Test of a Lifesaving Device to Prevent Wandering

Our Interviews With Assisted Living Facility Owners, Administrators, and Industry Experts!
Interview - Gene Saunders, President & CEO of Project Lifesaver Int'l

Interview: Gene talks about the mission of PLI, which strives to eliminated the failures of current 'search and rescue' standards for seniors and individuals that 'wander' due to cognitive impairments. Gene also introduces their new division, PAL (Protect and Locate). See the Full Interview

Interview - Tammy Merson - Senior Care of Goldsboro, Inc.

Our "5 Questions" series was with Tammy Merson, Owner of Senior Care of Goldsboro, Inc. See the Full Interview

Thank you to Tammy for sharing your expertise and insight with Assisted Living Directory, which is extremely valuable to those families considering assisted living, as well as anyone interested in starting their own assisted living home or senior care facility!
Our Commitment To Quality And Safety

Let Us Know! If you are aware of any facility or service listed on our site that has had safety or quality issues, please let us know by using our contact form. We will investigate and remove any service or facility from our directory that we feel does not uphold the highest standards of quality and safety.
As our site is growing, we appreciate our user feedback to inform us of news or issues happening in the assisted living and senior care industries. This helps us to ensure that our site is accurate and useful.
Assisted Living Original Articles, Videos & Senior News
Assisted Living Directory Original Videos:

Tips, Tutorials and Interviews:


» What Is Assisted Living? - Our original video description and definition discussing this common, and at-times confusing question.


» Inspiration for opening and owning your own assisted living home - We interviewed the owner of an assisted living facility about her longtime dream of owing an assisted living facility. She believes that you can make your dreams a reality with persistence. She plans on opening another, larger 35+ bed facility in the future!


» Creating Professional Videos For Your Facility - We discuss the equipment we use, and process to create our assisted living videos, including how to use a slider for motion shots


» How To Find Inspection Reports, Citations and Violations for Assisted Living Facilities - Finding this information is usually very easy, and can significantly help you with your assisted living research.


» Interview with Jean Cannon of Aspen House Memory Care - Our interview with Jean Cannon, who is the owner/administrator of Aspen House Memory Care. Jean shares her expertise about assisted living with us, and tells us about Aspen House.

» Using A Slider To Enhance Your Facility Videos - I am learning how to use a slider, which gives a neat 'motion' effect to videos. I will be using this technique on future videos I take when I visit assisted living facilities.


» Referral sites for assisted living, and being careful with your personal information


» Finding reviews to help you research a facility

---

» Our Mission: Assisted Living Directory strives to make quality online advertising accessible and affordable for assisted living facilities of any size.


Assisted Living Facilities, News & Senior Care