Assisted Living Facilities & Caregiver Support For Veterans

Join our Google+ Community & Discussion Group!
Learn More
National Resource Directory

The National Resource Directory is a great all-around Government site/resource that offers information on housing, caregiver support and information on Benefits and Compensation. There are several numbers listed that you can call to ask questions, as well as a search/drop-down (right sidebar) that allows you to search for services specifically by state.
Christian Care Centers - Texas (Multiple Locations)
972-686-2400
Delaware - Milford - Delaware Veterans Home Assisted Living
100 Delaware Veterans Blvd.
Milford, DE 19963-5395
302-424-6000
State Licensed Beds: 30
Florida - Lake City - Robert H. Jenkins, Jr. Veterans' Domiciliary Home
"The Robert H. Jenkins, Jr. Veterans' Domiciliary Home of Florida opened in 1990. This 150-bed assisted living facility provides a special combination of housing, personalized support services, and incidental medical care to its veteran residents."
751 SE Sycamore Terrace
Lake City, Florida 32025
Phone: (386)758-0600
Florida - Orlando - Welcome Home Veterans & Widows Of Veterans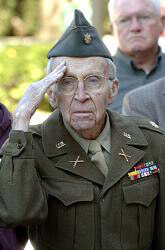 Sand Lake Assisted Living Facility was created in 2009 by Veterans for Veterans. We are a Six Bed Florida licensed (AL11561) Affordable Assisted Living Facility not a Large Costly Noisy Nursing Home. Since we are small we can provide a personal one on one touch with our residents Our medical staffs and caregiver's are all background checked and medically trained to provide the best care and support 24 hours day. Our facility is designed to make the veteran's or the widow's feel like they where living in their own home but with all the amenities and assistance they may need to maintain an active lifestyle. They say they feel like the are on vacation all year long because everything is provided for them from Home cooked meals, Laundry Services, Housekeeping, Grooming, Bathing, Toileting, Medication Monitoring, Bingo Nights, Trips to Stores & Restaurants and a Fun Social life with others their age. They love it beats being home all alone!

Our goal is to help the resident stay as independently active as possible, mentally, and physically so they may enjoy life to the fullest. Sand Lake Assisted Living Facility is a place they will love to call home while receiving the attention and loving care in a peaceful relaxing Home! We work closely with many agencies like the Department of Veteran Affairs and the Department of Elder Affairs to insure that the Veteran or Spouse receives the very best help and support they deserve.



Give us a call at 407-854-4018
St. Petersburg FL Assisted Living for Veterans

450 41st Ave S
St Petersburg, FL 33705
(727) 459-5929
"Personalized Service in a Residential/Family Setting"
Map

Illinois Veterans Homes for Seniors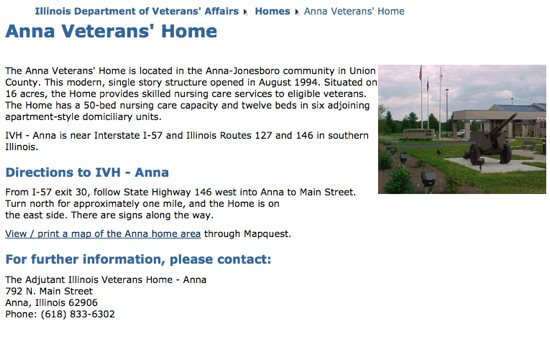 Learn how to find housing for Veterans in Illinois, including eligibility information, how to apply for a grant, cost of care, and more!
More Information
Lancaster, CA - WILLIAM J. "PETE" KNIGHT VETERANS HOME

45221 30TH STREET WEST
LANCASTER, CA 93536
Licensee Name: CALIFORNIA DEPARTMENT OF VETERANS AFFAIRS
Phone: (661) 974-7035
Facility Number: 197607726
Facility Capacity: 60
Map

Maryland - Charlotte Hall - Assisted Living &Domiciliary Care at Charlotte Hall Veterans Home

Charlotte Hall Veterans Home provides a continuum of long term care to its residents, from Assisted Living, to specialized Skilled Nursing, to care for those with Alzheimer's disease. Charlotte Hall Veterans Home provides an Assisted Living and Skilled Nursing long-term care facility for Maryland Veterans and eligible spouses who are unable to take care of themselves due to age or disability. Listed below are the eligibility requirements for admission:



Honorably discharged veteran of the United States Armed Forces
or the legal spouse of a veteran eligible to be admitted to Charlotte Hall*


Maryland resident


Age 62 or older, unless disabled and unable to work

Charlotte Hall Veterans Home
29449 Charlotte Hall Road
Charlotte Hall, MD 20622
301-884-8171
Website

Montana Veterans Homes
Montana's Senior and Long Term Care Division offers a page listing their Senior Veterans Homes information. Did you know that "Montana's veterans account for about 16% of the adult population, and only three other states have as high a percentage of veterans?"
Website
Sycamores Terrace Retirement Community

Assisted Living for Veterans
1427 Lebanon Pike
Nashville, TN 37210
(615) 242-2412
Website

Map

Search Tool for Finding Long Term Care for Veterans in Tennessee
The state of Tennessee's Area Agency on Aging and Disabiltiy has a great search tool that has a category specifically for Veterans. When I did a statewide search, and chose the 'Veterans' service category, a good number of long-term care facilities offering care for Veterans came up. Choices also included those for Alzheimer's and memory care. You can view this great tool here:
Website

Wisconsin - Liberty Village of Tomah
"Liberty Village Assisted Living (A 52-Unit Facility) accepts assistance from the Aid and Attendance Veterans Program and provides a 10% discount off the base rent for all Veterans who qualify."
Website
Teilman and Cal Assisted Living - Fresno CA
Teilman and Cal Assisted Living is a newly established assisted living facility, located at 2038 S. Teilman Avenue, Fresno Cal. 93706, in the South West part of Fresno. We serve senior veterans of the armed forces

With only six residents, we are able to offer quality care and supervision 24/7, with a licensed LVN in residence.

Frances Heller
frances.heller @ yahoo.com
Wisconsin Statewide - How To Identify Assisted Living Geared Towards Veterans
The State of Wisconsin's Department of Health has a great tool that allows you to search for assisted living statewide - as well as a number of other senior care categories and options, such as hospice, Dementia care and Alzheimer's care. This tool allows you to sort/specify for assisted living providers for Veterans in Wisconsin.

VA Caregiver Support

Assisted Living isn't always an immediate option or it may take some time to find the right facility or community. You may be caring or "caregiving" for a Veteran at home, and may need support, advice or just someone to talk to. This government service and site can connect you with a caregiver, and offer local assistance by licensed professionals near where your home is. This group of caring professionals can:
Tell you about the assistance available from VA.
Help you access services and benefits.
Connect you with your local family Caregiver Support Coordinator at a VA medical center near you.
Just listen, if that's what you need right now.
VA's Caregiver Support Line
Call toll-free to 1-855-260-3274