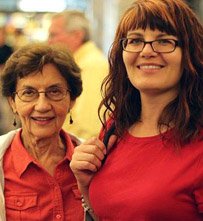 Whenever we research a page for our site, we always begin with the question "What would we like to know?" Of course, we want to learn about the different facilities available, but we would also love to know about state and local agencies and resources that offer additional facility data, and support. We also think it's important to be able to contact facilities directly and safely (with many other assisted living sites, they don't allow this, and we think often they use questionable practices).
For Ypsilanti, we've listed the assisted living and adult foster care homes here. Additionally, we'd like to introduce you to (if you aren't already aware of it) the Area Agency on Aging 1-B. This agency is an enormously helpful and informative place to find out about local services, programs and support for Ypsilanti's (and Washtenaw County's) seniors and caregivers. There are over a dozen programs and services, as well as a terrific list of caregiver resources.
This agency was "established in 1974, is a non-profit 501(c)3 agency responsible for services to more than 435,000 persons age 60 and older residing in Ypsilanti, and the surrounding areas and counties." Intro by D. Besnette
Ypsilanti, Michigan Assisted Living: Featured Facilities & Services
We provide a beautiful home with 24 hours care. We are close to Eastern Michigan University, in a quiet, professional neighborhood. Handicap accessible
866-315-1354Pricing & Availability
Features & Photos
We are a family owned and operated group home located in Ypsilanti on a beautiful 1 acre lot. We strive to provide the best quality of care while also promoting the independence of the resident. We look forward to hearing from you about yourself or your loved one.
We are a 5 bedroom 2 bathroom facility on 1 acre. We are handicap accessible and provide all meals, activities, housekeeping and 24 hour nursing care.
1-877-616-7329Pricing & Availability
Features & Photos
Additional Assisted Living & Senior Care Options for Ypsilanti
See a 'Street View Photo' of the facility's exterior by selecting the 'map' links in this section!
Question about facility Costs & Availability: (866) 333-6550
Join our Google+ Community & Discussion Group!
877-644-2963Pricing & Availability

3470 Carpenter Rd Ypsilanti, MI 48197
(734) 330-2086
877-345-1716Pricing & Availability
Map
Independent Living
Assisted Living
Respite Care
Hospice Care
1900 Prospect Rd Superior Township, MI 48198
(734) 483-6662
1-866-333-6550Pricing & Availability
Map
State Licensed Assisted Living Facility for Seniors
Alzheimer's Care
203 S Huron St Ypsilanti, MI 48197
(734) 482-9498
877-345-1716Pricing & Availability
Map
Assisted Living
Nursing
Memory Care
1241 E Cross St Ypsilanti, MI 48198
(734) 544-1099
Where Caring Matters!!!
1-866-333-6550Pricing & Availability
Map
12 beds
Companionship
Dementia and Alzheimer's
24 hour licensed Care Personnel Dispensation and Supervision of Medication
Assistance With Bathing, Dressing and other Personnel Needs
Complete Laundry and Housekeeping Services
Family Style Dinning Room
Fresh Home Cooked Meals
Special Diets
Private Rooms
TV and Cable in each Room
Walk-in Showers
Handicap Access
Brand New Home