February of 2013, Tammy Merson, RN, BSN –  the owner of Senior Care of Goldsboro, Inc. in Goldsboro, MD participated in Assisted Living Directory's '5-questions' interview series.
Tammy has recently opened her new senior care facility, and we asked her the following questions about how she got into the senior care industry, about her new facility, and some of the rewards and challenges she has experienced during the process:
Our '5-questions' interview with Tammy Merson, owner of Senior Care of Goldsboro, Inc.: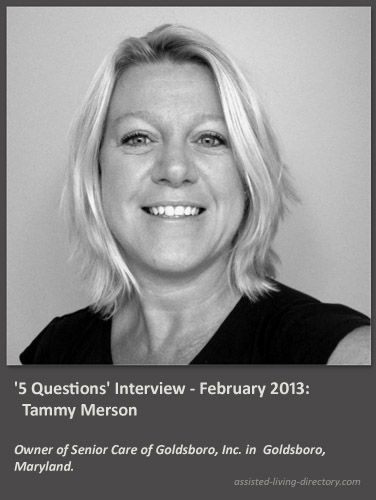 Question 1:  Tammy, thank you for participating in our 5-questions interview series.   I'd love to have you tell us a little about yourself, and how you first became interested in the senior care industry, how you got started, and a little about the process leading up to opening your care home in Goldsboro.
Tammy: David, I have been a nurse for 16 years.  I love being a nurse.  About two years ago, my family and I moved from one house to another in Goldsboro, MD.  We really didn't want to sell our home so we decided to turn it into an Assisted Living Home.  My parents moved in with me in January 2011.  They are young, in their early 60's.  I enjoy having them live with me. They are very independent and don't  require any assistance from me.  But, from this experience, I saw that there was a need in my area for a private home assisted living setting.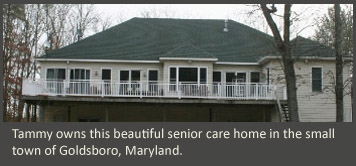 Question 2: Congratulations on opening your new home!  For anyone opening a new business, it can be an exciting and emotional time. What have been some of the immediate challenges and rewards opening your facility?
Tammy: The immediate challenge I have is how to acquire Residents? How do I let people know about my home.
David: I think you'll do just fine.   Networking with other site owners, taking the time to do interviews like this, and the work that you have put into your beautiful facility is a terrific start!
Question 3:  Your facility is absolutely lovely.   You have obviously paid a lot of attention to detail, and you have quite a few different rooms that serve different purposes.  Can you tell me about each area of the house?  I also see a playroom and reading room for 'small visitors' – which is a unique feature to a senior care home.  Are these rooms designated for grandchildren?
Tammy: We do have a reading area with many different kinds of books.  And as you mentioned we do have a play area that is designated for little visitors like grandchildren or children of other visitors who might visit our Residents.  Also, the bedrooms are large, comfortable and private.  The bathrooms are roomy and well lit. We have an activity area for crafts, games and puzzles that is located on the first floor.  We have a formal dining room where we will all eat together.  And there is a smaller breakfast room to sit for snacks or light eating.  Our recreation area is unique in that there is a regulation size pool table, a full size ping pong table, full size air hockey table  and foosball table.  There is also a piano, two guitars and full size keyboard for the Residents to enjoy. We also have a deck off the back of the home and a covered porch on the front of the our home.
The location of Senior Care of Goldsboro:

View Larger Map
Question 4:   I always like asking facility owners and administrators what they think are some of the unique benefits that can be had from smaller, residential homes, like yours, as opposed to larger, more corporate-feeling facilities.  What do you think a smaller facility or home offers that larger facilities cannot?
Tammy: Family. Having 4 beds for my Residents will give the family feel.  It will give us the opportunity to give each resident their own specialized care.  The family atmosphere will promote more interaction and deter isolation.  We will eat together, go places together, do our activities together.  We will live together like a family.
Adding to this question, Goldsboro is a small town.  Are there any benefits, or challenges of operating a facility in a smaller town (such as finding quality staff, or support services)?
Tammy: Actually, Goldsboro is such a tranquil place.  It is a peaceful, quite, beautiful, country setting.  Goldsboro is 30 minutes from Dover Delaware and 40 minutes from Easton Maryland which are two large commercial areas with shops, restaurants, hospitals, medical services, cultural activities and much more. And, I have had no trouble finding qualified staff to work at Senior Care of Goldsboro, Inc.
Question 5:  What is your most important, heartfelt, underlying goal, philosophy, or mission that drives what you do, and your facility?
We want our Residents to know that Our home is your home. And that we understand the difficulty it takes to place your loved one in someone else's care. We understand the worry and the concerns that you might have about leaving your loved one in care of someone you don't know.  Finding the perfect place for your loved one is a tough decision. We can provide you with piece of mind by providing a happy, comfortable, secure and healthy place for your loved one to call home.
We understand that each person is unique and special and has her own personal health and wellness requirements.  We are sensitive to the needs of others and are committed to providing an environment that will encourage her to thrive emotionally, physically, spiritually and mentally. Each Resident has an individualized care plan to meet her needs and requests.
At Senior Care of Goldsboro, Inc., your loved one is a part of the family.  She will be treated with respect, dignity and compassion.  Family is a very important concept at Senior Care of Goldsboro, Inc.  She will be treated like one of the family.
My mission statement pretty much sums up my philosophy (you may read about her mission statement on her facility's website).

To learn more about Senior Care of Goldsboro,  call us at: 410-924-7360
David: Tammy, thank you so much for taking the time.  You do have a beautiful facility and it is obvious that you have quite a bit of passion for what you do.   I am sure your facility and business will be a terrific success!