The folks behind the Larimer County, Colorado website and Office on Aging / Seniors department have done a great job in providing some extremely useful (really!) information in printable and save-able PDF format on the county's assisted living and senior care facilities. These lists include Fort Collins, and the many communities surrounding (like Loveland).
You can go to their main "Senior Citizens" department for a useful array of services and supports, including Caregiver Support, Adult Protective Services, and more.
What I did was simply use their search function, and typed in 'Assisted Living' to cut to exactly what I am interested in.
This brought up a few pages that I thought were excellent, and worth sharing with our site's visitors.
First, there is a very robust (updated recently, at the time of this writing) PDF list that is 6 pages long, listing the county's assisted living residences.
Here's a screen grab of the list, and what it includes: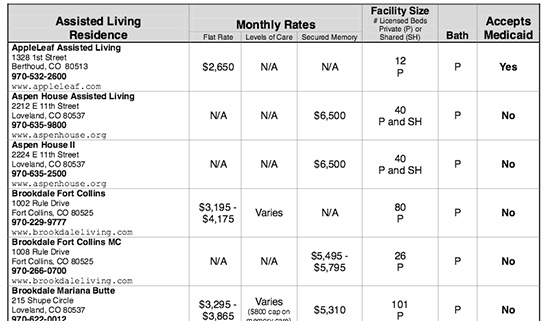 You can get the list here: http://www.larimer.org/seniors/assisted_living.pdf
It starts with a good definition of assisted living, and what you can except from this type of care, and then it immediately launches into the list.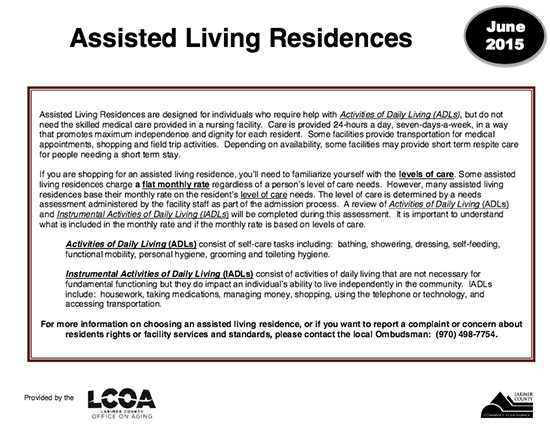 The information provides is extremely useful.
You'll learn the facility's website address, if they have one. In the next section, you'll see the facility's monthly rates – the flat rate, levels of care, and if it has secured memory care, and the rate. You'll also learn the facility size, with P indicating "Private" and SH meaning Shared. Additionally, you'll learn whether the bath is shared or private, and whether the facility accepts Medicaid.
Such a valuable and helpful list for any family to have.
Another great tool that will come up when you do a search for assisted living on the Larimer County site is a Comparison Checklist, which is a brochure 'designed to help consumers in choosing the most appropriate assisted living facility for themselves or loved ones.'
Here's a screen grab of the start of the checklist: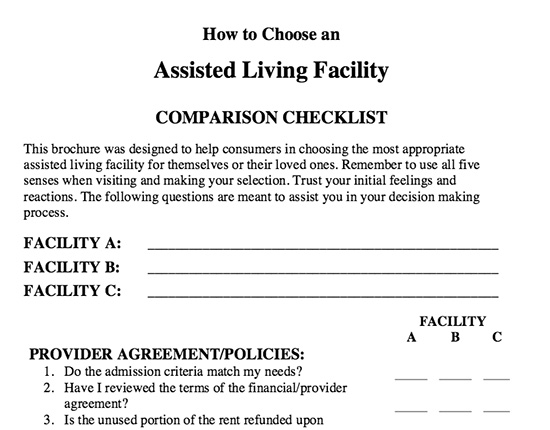 This is a handy checklist to have, especially to take notes on as you tour facilities around Fort Collins, or within Larimer County.
You can get the checklist here:
http://www.larimer.org/seniors/choosing_assist_liv.pdf