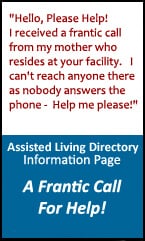 Interesting questions about Woodland Pond Assisted Living asked by our site visitors:
Q; Hi. My husband has early on-set Parkinson's. Is it possible for us to start out in the independent living section together and then as he progresses, go from there with add of services? You have so many arts and music activities -- this place sounds like a dream! What is the minimum age and is there a monthly maintenance fee for independent living? Thank you so much. - Mo
Q: What is the monthly cost for a studio or one bedroom suite and assisted living? And what kind of security/down payment do you ask in addition? - Gail
Don't be fooled by the Questionable Tactics used by many assisted living sites

Assisted Living Directory has a No Spam Guarantee!

Q: My wife has Parkinsons and dementia. I am looking for a place where we can be together and she can be cared for. - Joseph
Q: I am investigating this possibility for a friend with Parkinson's. He currently lives in another city. I have two immediate questions: is there a long waiting list for the assisted living units? can you give me an approximate annual cost for an assisted living unit which is a one bedroom suite? I want to know if you are at all within his price range so that I should arrange a visit. Thanks. - Rhonda
Q: Good morning, I am looking for an assisted living environment for my Mother. Not sure if Woodland Pond works with people who qualify for section 8 housing subsidy? - Tom
Q: I am searching for an affordable assisted Living for my mom who is 89. She is very good, for 89, but can not live independently. She would need meals prepared for her. She is independent in the bathroom and is still very active mentally. - Kate