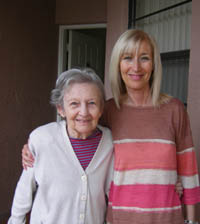 After spending many years in the fashion industry, I recreated myself as a
blogger/writer after my mother develped Alzheimer's. My mother inspires me
each day with her strength, humor and courage. She has truly become my hero. My writimgs are about the experience of being a caregiver, and our journey together.Since my mom became ill, our relationship has transformed into a touching and inspiring love story between a mother and daughter.

I am truly committed to spreading awareness.
http://mommyhero.blogspot.com/
Articles by Lisa Hirsch Exclusively For Assisted Living Directory:
* Loving My Mom With Alzheimer's

To send Lisa a direct e-mail, please use the contact form below: