Assisted Living Facilities & Senior Care in Providence

Tip: Selecting the map on the facilities listed here will greet you with a current 'street view photo' of the exterior of the facility or care home!
Join our Google+ Community & Discussion Group!
Learn More
Looking For Further Information?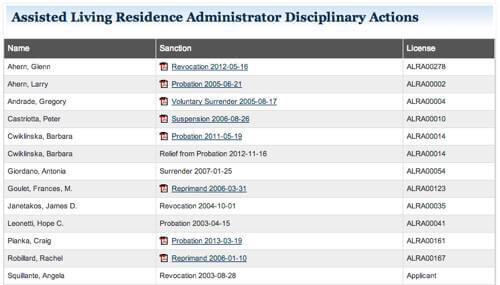 Learn facility and administrator citations & disciplinary actions for facilities throughout Rhode Island. This is also a great stand-alone tool for finding and researching facilities! This tool also allows you to look up disciplinary actions for administrators/owners of assisted living residences!

Other Relevant Senior Services for Providence
Providence City Hall
Office of Senior Services
25 Dorrance St.
Room 201
Providence, RI 02903
Website

Federal Hill Community Center
9 Courtland Street
Providence, RI 02903
(401) 421-4722

Fox Point Senior Center
90 Ives Street
Providence, RI 02906
(401) 751-2217

Jewish Community Center
401 Elmgrove Avenue
Providence, RI 02906
(401) 861-8800

Nickerson House Senior Center
133 Delaine Street
Providence, RI 02909
(401) 351-2241

Silver Lake Center
529 Plainfield Street
Providence, RI 02909
(401) 944-8300

Lillian Feinstein Senior Center
1085 Chalkstone Avenue
Providence, RI 02908
(401) 455-3888

St. Martin dePorres Senior Center
160 Cranston Street
Providence, RI 02907
(401) 274-6783

Washington Park Center
42 Jillson Street
Providence, RI 02905
(401) 461-6650

Westminster Senior Center
133 Matthewson Street
Providence, RI 02903
(401) 274-6900
Assisted Living Facilities, Senior and Long Term Care in Providence, Rhode Island (RI)