Additional Senior Care Options for Charlotte
Helpful Tip: See a current 'street view photo' as taken by google maps of facilities in Charlotte listed below with a 'map' link!
List your facility - any licensed assisted living home or facility in Charlotte in good standing may list with us!
***We include a number of video tours for facilities in this section!

Join our Google+ Community & Discussion Group!
Learn More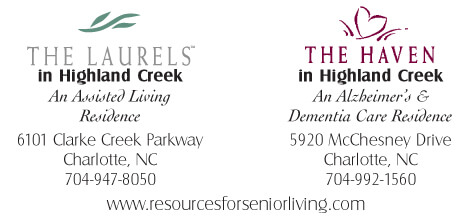 Senior Centers in Charlotte
Tyvola Senior Center
2225 Tyvola Road
Charlotte, NC 28210
704-522-6222
Map

Shamrock Senior Center
3925 Willard Farrow Dr.
Charlotte, NC 28215
704-531-6900
Map

West Side Senior Services
at Bette Rae Thomas Center
2921 Tuckaseegee Rd.
Charlotte, NC 28208
704-393-7333
Map

Looking For Further Information?

Get Up-To-Date Facility Pricing
Look up Facility Ratings - as conducted by the State of North Carolina. Also a great way to search for senior care using trusted sources!

Assisted Living Facilities, Senior and Long Term Care in Charlotte, North Carolina (NC)