For most of us, aging isn't something that we actively think about every day, especially if you are younger, and in good health. Many of us still have our parents around, and if we're lucky, they are thriving in their golden years, and enjoying the perks and activities of retirement.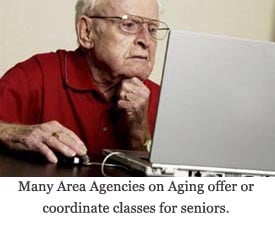 However, there may come a time for all of us where we abruptly need to assume the role of caregiver for a parent or loved one who has suddenly fallen ill; or perhaps is newly diagnosed with Alzheimer's or a memory disorder. Many times, the children of aging parents don't live in the same city - and may have children of their own (i.e. the "sandwich generation"), which further complicates things and adds to the stress and logistics of caring multiple arms of the family tree.
There's usually no advance training for this new role of caregiver, and no handbook or class that we've taken in advance to prepare us for the physical, mental, and emotional demands of managing the well-being...often remotely...of a loved one who can no longer live alone, or without some type of assistance.
One of the first decisions that might need to be made is whether mom or dad can stay at home, or if he or she (or sometimes both) may be better off living in an assisted living-type environment. Much of this decision may hinge on how much external support there may be offered in terms of local senior programs, volunteers, and if there is a local Area Agency on Aging, which often times will coordinate many facets of care and support for seniors who need the help.
An Excellent Video Talking About The Many Services Offered By A Typical Area Agency on Aging:
Area Agencies on Aging - a sometimes overlooked resource for seniors - is a wonderful place to start if you would like to try to keep your loved one at home, while ensuring that they will receive the proper support needed to remain independent and healthy.
Area Agencies on Aging were "established under the Older Americans Act (OAA) in 1973 to respond to the needs of Americans 60 and over in every local community."
Most Area Agencies on Aging, or "AAA's" allocate both federal dollars as well as state funds to offer and manage programs for seniors that include:

Home delivered meals (meals on wheels)


Senior Nutrition Services


Physical Fitness and Exercise programs


Legal assistance and advice


Transportation services (to and from shopping/medical appointments)


In-home care


Congregate meal services


Personal visits to assess health and well-being


Volunteers to visit seniors to keep them from feeling isolated


Health advice and assessments


Adult day care/respite


Outreach/social support


Connecting Seniors with Employers


Senior Volunteer Opportunities


Respite services (which provides a break, or relief for caregivers, which allows the caregiver to recuperate and rest, so he or she may continue effectively with caregiving)

Many agencies on aging also have phone numbers (often toll-free) allocated for different purposes such as:

Caregiver help and support


Elder Abuse


Connecting seniors with important community resources and local providers.

Although there are often no financial/income requirements to be qualified for assistance with an agency on aging - they are intended for seniors of a lower-income status, or who may be frail or with significant health or mobility issues.
Many Agencies on Aging also offer what is called a "Long-Term Care Ombudsman Program." A Long-Term Care Ombudsman is essentially a person, or persons who advocate for seniors living in assisted living facilities or other long-term care environments. These Ombudsmen can serve as a neutral, 3rd party voice to investigate complaints; look into possible elder abuse; working with and educating the staff at assisted living facilities; helping seniors to find assisted living/long-term care that meets their needs; and much more.
In addition, many Area Agency on Aging websites offer publications and newsletters that offer information and guidance on many issues related to aging, such as:


Housing


Alzheimer's and Dementia


Insurance


Medicaid and Medicare


Elder abuse


Caregiving


Costs and Expenses
Agencies on Aging may vary slightly from area to area in terms of services offered, however, they exist to support and act as a voice for seniors so they can continue living as independently, safely, and as healthy as possible. Agencies on Aging can serve as a valuable starting point for families or individuals assuming the role of caregiver for an aging parent or loved one - or for seniors who live alone and need assistance and support.
To find your local Area Agency on Aging, Please visit the National Association of Area Agencies on Aging (n4a).
More Information:
DRCOG - Area Agency on Aging
- Article by the staff at Assisted Living Directory
Join our Google+ Community & Discussion Group!
Learn More