Learn Facility Availability:
1-866-333-6550


Assisted Living Directory
has been in service for over
11 years
! Learn how
Our Site is Different!
Learn something new today in
Assisted Living Directory's Blog!
Learn About Michigan's Assisted Living Regulations - & How To Get A Copy!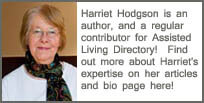 Costs & How To Pay For Assisted Living - What Do Medicare & Medicaid Cover?
How To File A Complaint Against A Facility - Statewide for Adult Foster Care Homes / Assisted Living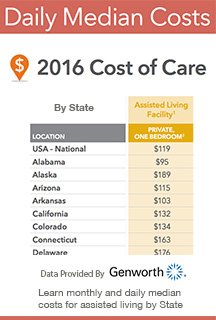 Michigan Assisted Living Association:
"The leader in advocacy, education, and resources for providers."

Tel: 800.482.0118
Elder Abuse:
Report suspected abuse by calling 800-677-1116
Ask A Question!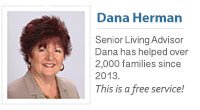 (866) 333-6550
Who we work with & why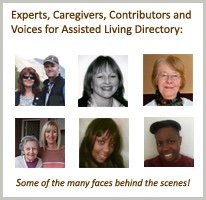 Keep up with our future videos! 253,000 + views and counting!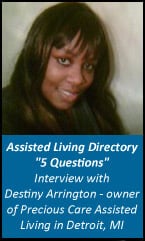 Popular Help Pages:
Facility Questionnaire - A Printable (.pdf) of Important Questions To Ask Facilities
What Is A Long-Term Care Ombudsman?
Assisted Living Tidbits
Interesting questions and comments that we have received about Precious Care and assisted living:
Q: I am writing on behalf of my grandmother. She is looking for a new place to live and we are considering Precious Care assisted living for her. She has Medicaid and Medicare and would be paying with her housing through this money. I was wondering if you had any openings, or any information on your home. The main reason she is leaving her current home is because she does not have any money left over for spending, and this would be important to her. This is why your rates are important for us to find out.
Q: What are the requirements for living at this facility? Also, do you accept medicaid and/or medicare insurance? - Samantha
Q: I''m looking for my uncle. his income is soc sec and a pension. would this qualify him for your facility? - vera
Q: Hello, I was hoping you could give me some insight on starting and opening my own assited living. I have my license but seem to be at a loss at where to go now. What was the first step you took to open your home home? Thank you so much for any advice you can give me. - Janis
Q: I am interested in converting a rental property into a assisted living home in Detroit. I'd like to speak to you about the process of starting up a home. - Michelle
Don't be fooled by the Questionable Tactics used by many assisted living sites

Assisted Living Directory has a No Spam Guarantee!