Assisted Living & Senior Care Options for Oklahoma City
***Tip: You will notice that the facilities in OKC vary greatly in size (licensed beds). Different sized facilities can make for a widely different living experience. We recommend that you take a look at our interview of a facility administrator, discussing the benefits of smaller assisted living homes.
***Research Tip: See a 'street view' photo of the facility of each facility below by selecting the 'map' link!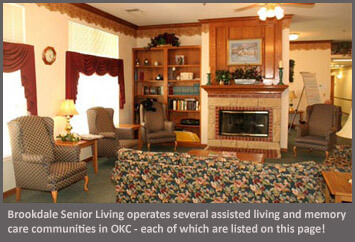 Other Relevant Senior Services for Oklahoma City
Oklahoma City Housing Authority: Candle Lake Senior Center
3540 Northwest 56th Street
Oklahoma City, OK
73112-4590
(405) 949-1120
Will Rogers Senior Citizens Center
3501 Pat Murphy Drive
Oklahoma City, OK
73112
(405) 942-4339
Woodson Park Senior Activity Center
3401 S. May Avenue (in Woodson Park)
Phone: 405 681-3266
Safety, Health and Cleanliness - Find The Best Facilities in OKC!


---

Unlike some senior care sites, our advisors are qualfied, and experienced. We can quickly let you know which facilities have scored the highest, and have had the fewest health and safety violations and issues in Oklahoma City!

Not all facilities are alike, and discovering the true differences between them requires research and understanding that goes far beyond brochures and marketing materials. We can help direct you towards the best that Oklahoma City has to offer!

We can also

Answer simple (or complex) questions about senior care in OKC
Set up tours and facilitate introductiosn
Help with payment, costs and insurance questions and issues

Our service and consulting is always free of charge. We look forward to helping you!
Assisted Living Facilities, Senior and Long Term Care in Oklahoma City, Oklahoma (OK)