Learn Facility Availability:
1-866-333-6550


Assisted Living Directory
has been in service for over
11 years
! Learn how
Our Site is Different!
Learn something new today in
Assisted Living Directory's Blog!
Ask A Question!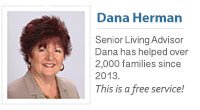 (866) 333-6550
Who we work with & why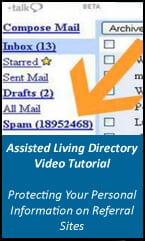 Popular Help Pages:
Facility Questionnaire - A Printable (.pdf) of Important Questions To Ask Facilities
What Is A Long-Term Care Ombudsman?
How To Open An Assisted Living Facility

Keep up with our future videos! 253,000 + views and counting!
Interesting questions and comments we have received about Home Away from Home
Q: I would like to obtain prices, and the number of residents in your home. Please if possible send prices for semi-private and private rooms - Michelle
Q: My mother is 54 years old, mentally and physically disabled, she can no longer live alone. She is a SSDI / Medicare recipient. She can bath and care for herself, walks with a cane now, but intermittently off meds and need supervision 24/7. - Selina
Q: I am interested in living in a assisted living home that is within the budget of my ssi. I am capable of caring for myself independently, however I have a few mental disabilities which have deemed me unable to successfully hold a job because of mood swings and also I cannot seem to get my medicines right so I have to be hospitalized a few times a year to monitor my medications to ensure they are helping me properly. I can care for myself and like to have THE ABILITY TO CLEAN FOR MYSELF AND DECORATE AND ORGANIZE MY LIVING AREA. I have ssi income of $450 each month. I do not need 24 hour care just a safe, independent living area that I can be safe and protected from harm. - Missy
Don't be fooled by the Questionable Tactics used by many assisted living sites

Assisted Living Directory has a No Spam Guarantee!