The assisted living landscape has changed dramatically in recent years - especially when we talk about what is happening on the internet. Just a few years ago, there were really only a handful of sites and directories for assisted living, and most of those were, and still are good resources to find information about assisted living facilities and senior care. Additionally, a few of the top sites that existed then still do today - which include the Assisted Living Federation of America, which was founded in 1990, and Medline on the National Institutes of Health. For those with Alzheimer's disease, the Alzheimer's association website has always been a good place to go.
However, as we do searches online for assisted living, more and more negligible or even sketchy "referral" sites are cluttering the results, making it even more confusing to know who to trust - and more importantly, who to trust your information with.
As you navigate your way through the top several pages of results when you do a search - you'll likely see a number of sites promising "expert care" for you and your family. All you have to do is fill out this simple form with your email, phone number and other personal items. From there - as these websites all claim in one way or another - all of your senior care dreams will come true...and mom or dad will be hand-held by the best national experts as they journey through the challenging maze of assisted living.
Yes....dream on. I'd say that most of the time, this doesn't happen.
What does happen in many cases, once you submit your information - is that your email address and phone number will be sold off to the highest bidder - regardless of relevance,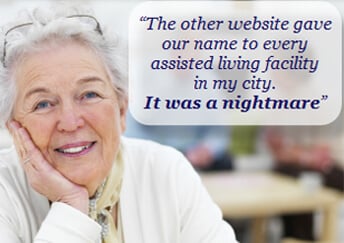 expertise, or intentions. I have heard of seniors being hounded day and night after their personal information has been compromised - not only by facilities wanting their business - but by insurance companies, senior care "experts" who are not certified or trained in any way, shape or form - or downright spammers who will clog your inbox for years to come.
There are a few things that you can do to try to minimize the unwanted phone calls, emails and solicitations:

Before you submit your information to any site - make sure to look for the site's "privacy policy." Any site that collects any information about you should have one...and if they do not, I recommend that you move on. Essentially, a privacy policy is a statement by the website that declares exactly what information they plan on collecting from you, and how they plan on using it - whether selling, distributing or keeping it to themselves. Privacy policies can be long and complicated, but it is important that you take the time to read it and understand it.

Does the website have a way for you to "opt out" from unwanted solicitations or contacts, and is there a way for you to remove your information from their databases? Most legitimate websites will tell you exactly how you can "opt out" from any further communications from them, and their "partners." By opting out, your information should ideally be completely removed from their systems.

Try to use an email address that you don't care too much about. I have a yahoo address set up specifically for online orders, and any time a website "requires" my email address for anything. I fully expect this address to receive a fair share of spam, and I don't use this address for other personal or business use. Most good email services have "filtering" that you can set up to help direct most spam messages into the spam folder - keeping most legitimate ones in your good folders (i.e. inbox folder).

If they require a phone number, I would take extra care. Most people only have one or two phone numbers, and if you give a bad website your phone number, you can end up wasting minutes and money fending off all of the unwanted calls. Never, if possible, offer your cell phone number.
Assisted Living Directory tries very hard to be "transparent" with what we are trying to do. We have a privacy policy for our site, and any external companies or facilities we work with and allow to collect your information are required by us to share their privacy policy and information on our website wherever they ask for information from you. We also require that there is an easy way for people to opt out from any future contacts.
In the 9 years we have had an online presence in the assisted living niche, we have never received one complaint about information being abused by us, or any of our partner sites.
We intend to keep it that way!
Join our Google+ Community & Discussion Group!
- Article by the staff at Assisted Living Directory