Expert Help...If You Need It!
1-866-333-6550


Assisted Living Directory
has been in service for over
10 years
! Learn how
Our Site is Different!
Learn something new today in
Assisted Living Directory's Blog!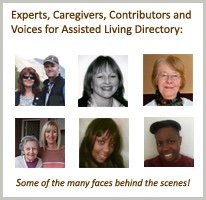 Local Arizona Senior Care Help

Hello, My name is Nita I am a certified and local senior care advisor. I am based in Arizona, and I am here to answer your questions!
1-877-687-4988
(A Free Service)

Who we work with & why
Keep up with our future videos! 211,000 + views and counting!
Elder Abuse:
Report suspected abuse by calling 800-677-1116
Popular Help Pages:
Facility Questionnaire - A Printable (.pdf) of Important Questions To Ask Facilities
What Is A Long-Term Care Ombudsman?
Assisted Living Tidbits
For any assisted living facility, part of the marketing effort is to create a brochure that you can send people who are interested in your facility and services. Brochures can be fairly easy to produce, and can be snazzy and colorful with great photos, compelling text, and plenty of claims that are presented as facts. However, are they truly factual?
Brochures lack the human element, or contact that you need to have to truly assess a facility and what it has to offer. Meeting with the administrator, the staff, and if possible, the residents, will help you to confirm, or question what is presented in the facility's brochure or other marketing materials.

Don't be fooled by the Questionable Tactics used by many assisted living sites

Assisted Living Directory has a No Spam Guarantee!