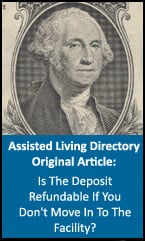 Not too long ago, we were watching a local news channel discuss a story about a family in town who were recently going through the process of finding an assisted living facility for their mother, who was in her 90's. They had looked at quite a few different facilities, and they had zeroed in on one that they thought was a good fit. The facility asked for a deposit to secure the space, and the family paid the $500.
Unfortunately and sadly, before mom was able to finally move in, she passed away. The family then asked the facility for the $500 deposit back, and the facility said no. The family was extremely shocked and upset upon hearing this news. The could not understand why the facility would keep the deposit. The family turned to a local reporter to 'expose' the case, and to help try to get their money back.
This is, of course, an emotional issue, and one that most certainly has two strong sides to the argument. On one hand, the family did not receive any services, but still had to pay the deposit. On the other hand, isn't that what a deposit is for? Isn't it to make sure that people will follow through on their commitment to the business, and so they don't lose money holding a room or product that could go to another family or person?
Which side would you take?
We discuss this issue more thoroughly in our section 'Is the deposit refundable."
Great questions and comments from our visitors about Assured Assisted Living and Colorado assisted living:
(These questions may serve as examples of the types of questions you and your family might ask your potential assisted living home)
Do you need to "buy in" to be able to live at one of your facilities?
Do you accept Medicare and Colorado Medicaid? My mother is in a facility in Colorado Springs and we are considering moving her to a facility in Castle Rock.
I would like more information on your services and fees. My mother is 80 with dementia. She may be coming to live with me in Castle Rock. She is a retired RN.
My mother is suffering from mental illnesses up to and including dementia. My question is would you accept someone suffering from a variety of mental illnesses, and are your facilities medicaid-qualified? Thank you!
Q: Hi, Can you please tell me if any of your homes are Medicaid approved and if so how I go about visiting your homes for my grandma since we are currently looking for a home for her? Thank you - Crissa
Q: Hello! My father has dementia and needs a place that specializes in helping him cope with angry outbursts. He also needs a place that is medicaid approved. Would one of your homes work for him? Thank you. - Rita
Q: Do you accept Medicare and Medicaid (secondary) insurance? My mother is currently at Parker Adventist and needs a rehab and assisted living facility. - Michelle
---
Subscribe
Don't be fooled by the Questionable Tactics used by many assisted living sites
Assisted Living Directory has a No Spam Guarantee!