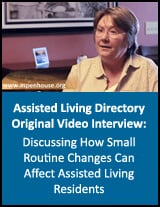 Interesting questions and comments we have received about Seva:
Q: Hello, my name is Tom and I am writing on behalf of my mother. She is 68. She has dementia, and is on Social Security. She has Medicare and Medi-Cal, and is eligible for SSI. I am writing because I am no longer able to care for her, and her doctor and the Horizon Home Health social worker agrees and recommended assisted living for her. I wondered if you accepted the Assisted Living Waiver or if we could work out a plan. If not, I was wondering if there was a facility that you could recommend that might be able to help, as this situation is urgent. Thank you very much for your assistance. - Thomas
Q: Looking for a place for my father, wondering about prices and level of care available. thank you. - Amy
Q: My name is Shawn and I am looking into assisted living facilities for myself.
I would like to know a few things:
1. What is the cost per month? How much is covered by insurance and how much is per individual?
2.What type/types of menu does your facilities have. Do you accommodate according to individual needs?
3. Are there activities for your patients that incorporate rehabilitation and overall life improvement?
4. Though I don't expect nor desire visitors, I would like to ask the policy and hours of visitors?
5. If approved, what is covered under the patient's placement?
6. Do you accommodate for people that are well over 500 lbs?
Thank you for taking the time to answer these questions and please let me know if you have a bed available. - Shawn
Q: Do you accept Medicare? MediCAL? Service pets? What's the difference if you have shared rooms from a Board and Care facility? Are you required to share a room if on Medi-CAL? - James
Q: Do you have memory/dementia care? 55 yr old male. Hoping for low income bed..... - Mariliyn
Q: Do you currently have any vacancies for a 73 year old female mobile but uses a walker. Outside smoking needed. - Ann
Don't be fooled by the Questionable Tactics used by many assisted living sites

Assisted Living Directory has a No Spam Guarantee!