I had the very unique opportunity recently to visit Aspen House Memory Care in Loveland, Colorado.
I have been asking various assisted living communities in my area if they would be interested in being interviewed - and if I could tour their facility, Aspen House was the first to respond and grant me my request.
Jean Cannon, the Executive Director for Aspen House, first suggested a day in early April of 2011 for me to come up to meet her. As the day came closer, she asked to reschedule, as she needed to attend a funeral for one of her residents who had recently passed. Of course, I understood.
Jean and I had spoken briefly about what we wanted to talk about when we met, and one of the things that interests me is what facility administrators and/or owners see as being the rewards of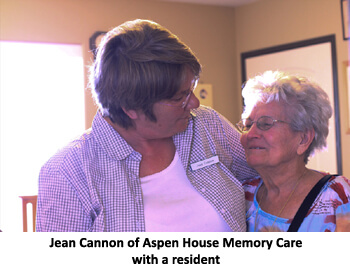 operating an assisted living facility, and what some of the challenges may be. Hearing about the passing of one of her residents, it occurred to me that one of the greatest challenges must be saying goodbye to someone that you most certainly have developed a strong bond with. I am sure most facility administrators and employees become quite attached to, and emotionally close with most of their residents. I asked Jean if this was one of the "challenges" (for lack of a better word) - and she very much agreed. For someone like Jean, who I could tell is inherently a very caring personality, the passing of a resident would require time for grieving and processing.
I asked Jean how this type of event affects her staff, and she explained that it is equally hard on her caregivers and employees. I was very impressed that Jean took the initiative to have a hospice expert come to the facility after this event to help educate her staff on end-of-life care and issues, and to help them cope with the recent passing.
The day that I drove up to her facility (after we had rescheduled), I was trying to imagine what my visit would be like. I had, of course, visited a number of assisted living facilities before, however, this would be the first facility that I have visited that is solely dedicated to Alzheimer's and memory care type-residents. Facilities of this nature sometimes have an unfortunate stigma of being perhaps unhappy, stale, isolated and un stimulating environments. I was hoping that this would not be the case - and thankfully, it was quite the opposite!
I easily found the facility, and noticed that every guest has to ring a bell to have a staff person open the door - something that I highly appreciated. Security is of paramount importance in assisted living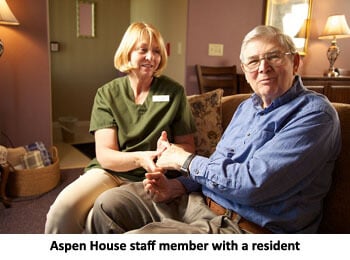 facilities, especially when you are caring for residents with memory disorders. I see news alerts and articles almost daily about residents getting lost, or wandering off-property, or uninvited guests slipping into facilities - Aspen House had obviously spent much time and effort to cover all of it's bases on this front. The home, in every respect was safe and secure. If a window is opened, an alarm sounds; doors to supplies or medications that should be locked are locked, and there are highly visible and uniformed staff with name tags in every part of the house. The perimeter of the facility is fenced, so there is really only one main entry-exit, which is highly monitored. Jean's husband Dave greeted me at the front door - Aspen House is a family-owned facility, as you might have guessed.
Jean greeted me in her office, and we spent a few minutes chatting, and meeting a few of her family members, and staff. Her grandson was with her at the time, which was neat for me to see. For a 5 year old to feel comfortable, happy and welcome in an memory care facility is quite something. It seemed like the residents really appreciated and enjoyed having him around!

Jean then asked if I wanted a tour, which started in the front foyer near her office. As we made our way down the first hallway, I could see a short way down a number of residents participating in a group activity in a large, bright, and tastefully decorated common room. I saw the staff interacting with the residents, engaging them with games, conversations and questions.
Much to my surprise, and relief - most all of the residents I met on our tour seemed happy...and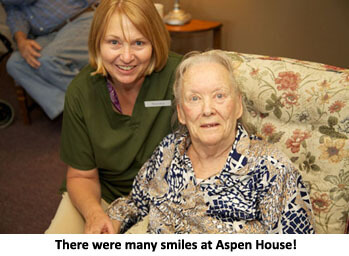 happy to be there! I saw countless smiles, and received so many warm greetings from so many of Jean's residents, that it was a little disarming for me. As we made the rounds, a fellow in a wheelchair stopped us and asked Jean for some help with a personal issue, and Jean stopped, and took the time to patiently discuss the matter with him. This gentleman then shook my hand, and explained that he was an electrician of some sort, and was very handy.
As we continued our tour, Jean explained that the layout of the inside of the main part facility goes in a circle. This was by design, so the residents could easily get some daily walking in, and also to encourage more interaction with her residents. Within the circle, there are various rooms - restrooms, storage rooms, showers, etc. - all of which were extremely clean and well organized.
Jean mentioned another 'challenge' at this point - which is storage. She said if she had to do it over again, she would have allotted more room for storage. From my perspective, there wasn't a visible problem at all with this - the facility was not cluttered in the least (at least what I could see), and was spotless from a cleanliness/sanitation perspective. I can imagine this is another very important ongoing task at any facility, especially if you potentially have residents with weakened immune systems.
There are two wings of the facility which are dedicated to resident rooms. Most of the rooms have the capacity for two residents, and Aspen House encourages couples/spouses. The rooms are lovely, and most share a Jack and Jill bathroom. All of the rooms were very clean, well kept, and many of them had the resident's personal touches added to them.
I asked if I could take a few photos of one of the rooms, so we went down to Wanda's room, which was labeled outside with a sign in very big letters. This, I assumed helps the residents to remember which room is theirs. Wanda was delightful - so quick to smile, and was very open and receptive to me. I took a photo of her sitting on her bed, smiling. She then glanced to the wall, and within seconds, started to cry. It was such an unexpected moment for me, and at first, I wondered if I had done something wrong. Thankfully, I had not. Wanda, looking at photos of her husband (who has passed) on the wall, was suddenly grief stricken by his memory. Jean immediately went over to her, and put her arm around Wanda, and walked her back into the hallway, comforting her.
What I have learned is that most of the residents at Aspen House spend most of their day out in the common areas of the facility - rarely do they spend any free time in their rooms. This is mostly by the choice of the residents, but is encouraged by Aspen House. It serves the purpose to keep the residents socially engaged, and to help fight loneliness and sadness - as Wanda was feeling at the moment.
As soon as Wanda was back out around her housemates, her contagious smile returned!
Jean has a wonderful way of interacting with her residents. At any given moment, Jean has countless things pulling her attention in a million different directions. Running her facility, and business is an exercise of constantly being asked questions by her staff, fielding phone calls, talking to families, attending to visitors and taking people the likes of myself on a facility tour - all at the same time. However, when a resident stops her in the hallway to ask her a question, or simply for some attention - Jean can quickly switch gears to be fully present, genuine, and nurturing - whether it is to stop to rub lotion into the hands of a resident who needs comforting (Jean says that many of her residents find great comfort by the simple act of having lotion rubbed into their hands), or to answer a question about what's for lunch, or to simply offer a hug to someone who is feeling sad, or lonely. Jean says that "touch" and hugs are so important for people with memory disorders. Judging by way she handled the brief moment of grief with Wanda, I would have to attest to it's effectiveness!
It's a rare talent to be able switch from the administrator persona to that of a caregiver on a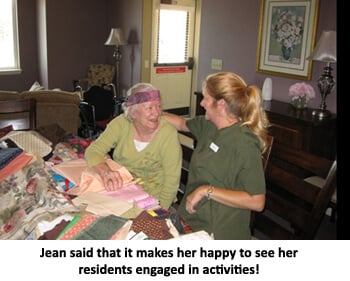 moment's notice, but Jean seems to be able to do it easily at all times.
Jean, and her staff at the Aspen House have enormously complicated jobs - day in and day out. The art of running an assisted living / memory care facility isn't only about keeping the residents fed, clean, safe and out of trouble. It also involves keeping the 'spark of life' alive with her many residents - not what I would call an easy thing for anyone to do with residents of diminishing mental returns and capacities. However, I witnessed first-hand that so many of Jean's residents still have that wonderful and childlike twinkle in their eye - reminding me that there is a human being behind every label and diagnosis. I was asked genuine questions by her residents about my life - my family, my son, my business, schooling - the list goes on. As I made the rounds on the tour, I was invited to "come back and chat" a number of times. I only wish I had had the time!
As our tour and interview was coming to a close, I asked myself if there was anything at all that I could be critical about. There was nothing. This isn't to say that Jean has been flawless in her time running Aspen House - she'll be the first to tell you that. Of course, there have been some misfires along the way. For example, Jean told me that they spent a good deal of money on several walk-in bathtubs, which almost never get used. She says that many residents with memory disorders are frightened by them when they see the rising water, and the intimidating size of the tubs. Now the tubs are mostly used for towel storage - so not a total loss!
One of my favorite things that Jean said a number of times is "it's a good idea until it's not." Her facility and home is an ever-evolving entity, and Jean very obviously fine-tunes it every day, and treats it as such. If there is something that isn't working in terms of menu items, they change the menu. If there is a certain time of day that her residents seem to always get restless, or out of sorts, they try to figure out why (in one case, it was a certain time of day where they did a staffing change that upset some of her residents- something that she has addressed), or if a resident is afraid to take a bath - they'll do a shower instead.
Jean was so gracious in sharing her expertise with me. She is a true expert - in an academic sense, she has received her assisted living certification from the State of Colorado, as well as a business degree from CSU. From a human standpoint, I was very taken with her ability to ongoing and genuine compassion and tireless positive energy towards her residents. She very obviously and transparently cares for each and every one of them very deeply.
Where might you find Jean on Christmas Eve? At Aspen House, of course with her family....
As I finished packing up my camera equipment to leave for the day, I thanked Jean for spending so much time with me. I gave her a quick hug. This brief, final interaction with her told me more about her than our previous few hours together - that her purpose in this life is to be a caregiver, and that she has truly found her calling at Aspen House.

- Article and Video produced by the staff at Assisted Living Directory, May 2011