Find Assisted Living in Fairfield, Connecticut - Certified Senior Care Advisors
Our certified consultants will help to identify your assisted living needs, and help you through every step of the process. Our Advisors have received their Certified Senior Advisor certification to earn their expertise in Fairfield, Connecticut. Our service is 100% free to you!
---
3 Easy Steps In Finding The Best Senior Care In Your Area
Our Senior Care Consultants Will Perform:
Step One- The Assessment/Interview
Identify your loved one's care needs and preferences
Identify personal preferences/location
Identify hobbies and lifestyle preferences
identify budget preferences
Step Two- "Matching Needs & Preferences"
They will then "match" all the information from Step One and narrow down your options to 3 or 4 pre screened and CarePatrol approved care providers.
Step Three- Tour Our Recommendations
Our Senior Care Consultant can personally bring you to our recommendations for a tour (much like a realtor does) or if you would rather go by youself, we can arrange the details of your tour accordingly.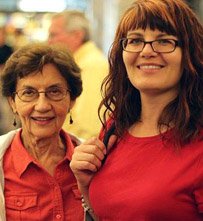 Aside from making every effort to offer extremely useful information on our site, Assisted Living Directory, we realize that we'd be remiss if we didn't point out other good sites too.
We've always highly recommended that for any family researching assisted living to become familiar with your local area agency on aging. These agencies are wonderful places to find help, learn about senior programs, find housing options such as assisted living, and to also learn about social opportunities for seniors.
For Fairfield, this would be the Southwestern Connecticut Area Agency on Aging (SWCAA). Specific services include: Adult Day Care; In-Home Services; Information on Fairfield's Senior Centers, Housing including a list of assisted living residences and more.
Assisted Living Directory has included Fairfield's assisted living facilities and homes on this page, as well as other important senior services. All facilities may be contacted directly and safely! Intro by D. Besnette
Fairfield, CT - Assisted Living & Senior Care Options
400 Mill Plain Road Fairfield, CT 06824
(203) 255-3573
866-666-1057
Pricing & Availability
Map
Rehabilitation
Short-term Care
Long-term Care
Hospice Care
175 Jefferson Street Fairfield, CT 06825
(203) 396-1136
888-981-6827Pricing & Availability
Website Map
Long Term Care
Hospice
Day Services
**An alternative to traditional assisted living care
"...allows you or your loved one to continue to enjoy independence and the comfort of home, with just the right amount of support from a dedicated caregiver."
1618 Post Road Fairfield, CT 06824
800-348-4663
888-985-4427
Pricing & Availability
Map
Other Relevant Senior Services for Fairfield
Fairfield Senior Center
Phone: 203 256-3166
Address: 100 Mona Terrace , Fairfield, CT 06824
Certified CSA Senior Care Advisor for Fairfield/Connecticut
My name is Richard, and I am a Connecticut resident, and I have earned my CSA certification. I work with seniors, families and caregivers to identify the best assisted living or senior care option that matches your needs, and unique situation.
I am local to CT (over 15 years!), and extremely knowledgeable about our assisted living homes and residences statewide, including Fairfield.
I can save you time, and it is my goal to help you to find the safest, best care facility for you!
I really encourage you to get in touch with me to learn more about what I do, and how I can help! There is no obligation!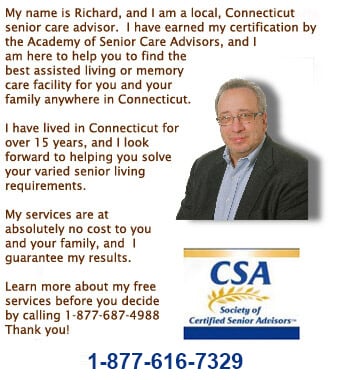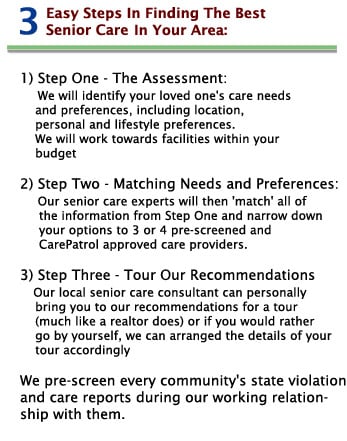 Need More?
Learn how to find affordable/low-income assisted living in Fairfield using state data and resources.


Learn Facility Monthly Rates