Assisted Living Facilities & Senior Care - El Paso, TX
A few items to note about about this page: The facilities here can be contacted directly, and safely (unlike many other senior care sites). Additionally, we will provide information on helpful state and local agencies to help you further your research. We'll also offer places for you to ask questions, or get additional help, should you need it.
Helpful Tip: Facility size is a significant factor to consider when choosing a facility. We recommend watching our video interview with an administrator of an assisted living home talking about facility size, and the benefits that can be received through smaller, more homelike facilities.
List Your Facillity - Any licensed facility or residential care home in good standing may list here
Tip: Call or contact any of these facilities directly - ask them to send you a brochure if you prefer 'printed media!' Most of them should be able to accommodate you!
Join our Google+ Community & Discussion Group!
Learn More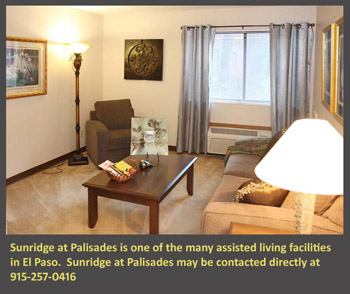 Additional Support
Learn facility inspections and citations for facilities in Texas and El Paso. This is also a great way to research facilities and care options using non-commercial, state data and resources!
We can answer your questions about El Paso senior care options!

---

Whether you are overwhelmed by your senior care search, or if you simply have a question, our senior care advisors can help. We have advisors and experts who are knowlegeable about the local assisted living facilities in El Paso!

Our advisors are here to:

Help you to locate the best facility for your needs and situation
Advise you of any discounts that may be available
Help you to understand insurance and payment options
Facilitate introductions with facility administrators, and set up tours
Help you through every step of the process.

This service is completely free to every family we work with.
Assisted Living Facilities & Senior Care in El Paso, Texas