Residential Senior Care & Assisted Living Facility Options for El Cajon
Tip: Most any facility in the US has a photo, and virtual tour available, if you know where to look! By looking at each of the "map" links for the facilities listed below, you'll be shown a 'street view' image of the facility, with a clear photo of the exterior. After that, you can do a virtual 'street tour' of the facility's neighborhood and surrounding area, almost like driving a car! It's a great way to get an idea of what the facility looks like, and how the surrounding neighborhood and area looks!
***Learn facility Inspections, Citations & Complaints! - California statewide!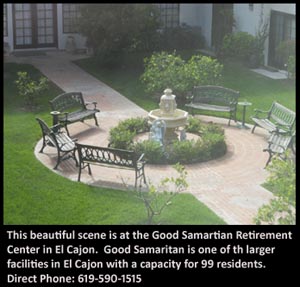 Join our Google+ Community & Discussion Group!
Learn More
Additional Support
Assisted Living Directory works with seasoned, experienced, and compassionate Senior Care Advisors that are available to help you.

---

El Cajon is a large city...with many Assisted Living and Residential Care Homes for the Elderly to choose from.

Finding the right facility or environment (for yourself, or a loved one) can be a daunting task, especially if you aren't clear about how to pay, what the costs are, and if there is any confusion about particular regulations or perhaps a unique health concern or condition that may be present.

We work with a wonderful and experienced group of senior care advisors that can help to guide you through many of these questions, concerns and considerations.

We work at no cost to you or your family. Our goal is to work with you to create a workable list of facilities that fit what you can afford, and that match your particular or unique needs.

We look forward to helping you!

Assisted Living Facilities, Senior and Long Term Care in El Cajon, California (CA)