Learn Facility Availability:
1-866-333-6550


Assisted Living Directory
has been in service for over
11 years
! Learn how
Our Site is Different!
Learn something new today in
Assisted Living Directory's Blog!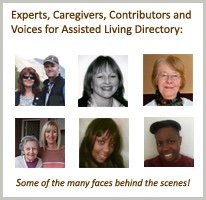 Local Arizona Senior Care Help

Hello, My name is Nita I am a certified and local senior care advisor. I am based in Arizona, and I am here to answer your questions!
1-877-687-4988
(A Free Service)

Who we work with & why
Keep up with our future videos! 253,000 + views and counting!
Popular Help Pages:
Why Is Assisted Living So Confusing?

ALTCS and Arizona Assisted Living: Our Survey of Arizona Facilities & How To Find Providers That Accept ALTCS
Learn About Arizona's Assisted Living Regulations: & How To Get A Printable Copy!
3 WAYS TO FIND SMALL-TOWN/RURAL ASSISTED LIVING IN ARIZONA: Comprehensive State Lists & Data
Our Top Advice for Anyone Searching For Assisted Living
How To File A Complaint Against A Care Facility in AZ: Quickly & Anonymously
Facility Inspections & Citations - Arizona
The 10 Most Common Cited Deficiencies: Arizona Facilities Statewide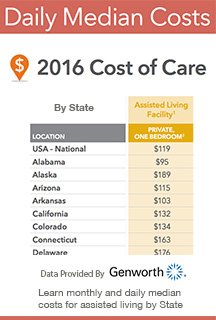 Arizona Assisted Living Homes Association (AALHA):
Phone: 1-888-400-9044
P.O. Box 21752
Mesa, AZ 85215
Elder Abuse:
Report suspected abuse by calling 800-677-1116
Assisted Living Tidbits
Some excellent questions that we have received about Crismon Peaks assisted living - questions that can serve as examples of the types, and thoroughness of questions that you might ask potential facilities you are interested in:
What are the costs involved? Does VA approve of this facility and are they accepted by your home? We are looking to move to Glendale or Mesa in July or August and need to know what may be available for my husband and his care. Thank you for your time.
In the last 3 or 4 months my Mother has been having serious issues with her back and is recovering from some surgeries She does not seem to get better. Now seems to extremely weak and depressed and is not able to be alone. I am wondering if any government assistance available at your facility or any options if the situation continues to get worse.
My father in law needs somewhere to live. He is staying with my sister in law and is very difficult for them to manage. He has severe anxiety attacks and wants a great deal of attention. He is on mercy care and disability, COPD. what does it take to get him in somewhere
Do you accept SCAN Health Plan? We need placement within the week!
Hi, I am looking for an Assisted Living community for my mother, Lula. Right now she lives at Merrill Gardens at Mesa, which only accepts private pay. Does Crimson Peaks offer the options for Arizona Long Term Care System? Thank you.
What are your rates for an 81 year old man on oxygen 24/7. He can bathe himself and dress. He needs meals prepared, laundry and house keeping
Do you have memory care facilities? My aunt is AL at this time but will eventually need memory care.
I have a couple of questions-do you all take small pets and also are they homes or just one bedroom suites attached the actual facility?
Do you accept seniors with Alzheimer's? What is the guesstimated monthly rate for Crismon Peaks?
What is the general monthly cost? My mother will be 99 in April. She is unstable but gets up for bathroom and dressing. Has medication and Oxygen at this moment. She is now in Mesa
We are looking for an assisted living center for my 74 year old mother in law who has MS and is in a chair. She needs transfer services from/to her chair - but healthy otherwise. What would be your monthly charge for that?
To save a little time I am going to paste my mothers biography here for you to view to see if you can help us.
Mother is in an assisted living center that can handle special needs sometimes found in a nursing home at half the price. We are looking for a similar facility, large group home facility that more resembles a dorm room rather than a home. Large rooms opening to hallways where you can hear and see the resident action from her bed.
She is bed bound by choice, a type II diabetic that only requires a pill once a day and a weekly glucose test.
She prefers not to eat orally anymore except for sweets, candy, marshmallow and of course in her room. She is not a social person anymore except with her caregivers.
She has bolas feeding tube, no special license to feed her as any caregiver can open a can of Glycerna and syringe it down the tube, along with her crushed up medication. This happens 4 times a day. She takes Parkinson's meds too.

Since is prefers to stay in bed and can not walk she needs assistance changing her briefs, changing shirts, and taking showers. When she has to out of be she gets pushed around in a wheel chair.
She has a mobile doctor who visits her twice per month. Mother can talk with you if she prefers to. She has her memory, long and short but can be an ornery woman due to her situation.
Hello, do you have short stay rooms available for one or two week periods?
Q: Do you take Mercy care ALTCS? We are two heavy set sisters who are looking for a place to live? - Barbara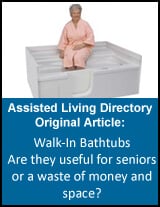 Don't be fooled by the Questionable Tactics used by many assisted living sites

Assisted Living Directory has a No Spam Guarantee!