Assisted Living Tidbits
Questions and comments we have received about Concord Place, and assisted living that may serve as helpful examples of the types of questions you might consider asking facilities that you are interested in:
Could you send me some basic information about your current rental rates for Concord Place assisted living? I am looking for my mother-in-law. I am somewhat familiar with your building and feel this location could work well for her.
I'm waiting to move into Apt. 1020 pending approval of my Public Aid application. Please give me a time frame on moving in & refresh my brains on the exact amount of that portion of my rent Public Aid will not cover, just to help me plan ahead.
I am writing a paper on your facility this weekend and would like to know the size, cost, diversity of residents, insurance coverage, nurse to resident ratio, admission policies and inspection grades. If you have an internet site I could go to to get this it would be great. Your facility looks excellent. I am a RN working on my BSN.
I am starting to look for a place for my mother, who is 89 and lives in her home in Villa Park. Do you have space available, what are the financial requirements, and do you have the capability to deal with developing alzheimer's,etc. I have passed by your place many times - but might want to take a tour.
PLease send me information on your facility and prices and availability Do you have a brochure, and is there a waiting list? I would also be interested to find out what activities you provide for your senior residents, and do you have an activities director.
Is there an age restriction and waiting list? I would also like to find out how I would receive my medicine.
I am impressed with Concord Place. I once lived and worked in another city, but moved to Gary. , I am interested in moving to a quiet residence based on income. Is Concord Place addressed to the income of its applicants to determine rent? I am disabled and retired.
We are looking for a permanent residence such as Concord Place for my brother, who is 63 and can no longer live alone. He is on Medicaid. Is there a waiting list at this time? We would also like to schedule a visit.
Do you have a month-to-month rental option? I do not wish to be contacted by phone, so please send pricing info, as well.
Q: I am starting a search for potential assisted living facility for my 86 year old father with early stage dementia. Would your facility be appropriate? - Sherry
***It is always worth seeing if there is a discount for a "couple" over a single-person rate! - ALD
Q: Do you accept Medicaid patients at Concord Place? My mother only receives a monthly check from Social Security. That is her only income. - Toni
Q: I am a veteran on disability and my only income is social security disability I am in an apartment now and after paying the rent there is not much left I am waiting for Medicare to kick in and right now thank god the VA is my only health care. but when they start taking out for Medicare I wont be able to afford the rent. Will you take me at the concord my VA case worker said it is a nice place to live and I would not need a car because there is transportation for the residents can I afford to live there - Michael
Q: Do you accept Medicaid in conjunction with social security income? - Valerie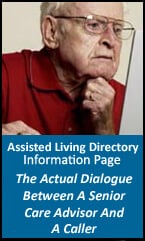 Don't be fooled by the Questionable Tactics used by many assisted living sites

Assisted Living Directory has a No Spam Guarantee!