Ah, Illinois! The microcosm of the US, the Land of Lincoln, and the place of presidents (usually). The birthplace of Ronald Regan (who succumbed to the effects of Alzheimer's in 2004) and home of Chicago, where jazz and blues went to live and grow. Residents here find themselves in the 5th most popular state in the US, with the population center residing around the city of Chicago; the city of course provides for the states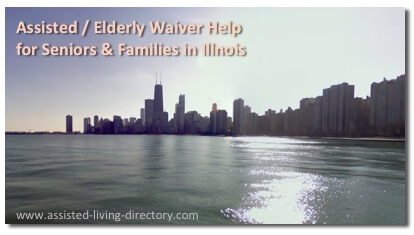 popular sports teams, such as the Chicago Cubs, the Chicago White Sox, the Chicago Bulls, and the Chicago Bears.
The elderly population in the state was about 13.5% last year, with a projected one million plus in 2010, with many centered around the popular city of Chicago. For these residents, being able to find reasonable and affordable access to assisted living communities or retirement communities is important.
Luckily, the state of Illinois provides several waivers for individuals and their families who are looking for not only information, but help in getting the assistance with these waivers and programs.
The Supportive Living Program was developed to provide an alternative for those older residents who are of low income or who have disabilities and are on Medicaid. This allows for individuals to avoid living in a nursing home, by combining apartment style housing with services such as personal care, homemaking, laundry, medication supervision, social activities, and more.
Individuals are able to be independent and be involved in their own decision making, giving them person choice, privacy, and dignity. To be eligible, individuals need to be 65 or older, while those who are disabilities need to be 22 and older; individuals need to be eligible for Medicaid, with income equal to or greater than the current SSI.
For information, families or individuals can contact the Department of Healthcare and Family Services.
Home and Community Based Services Programs
The Home and Community Based Services Waivers or the HCBS is a waiver program that provides several different services that also allow for individuals to stay within their homes or within a community setting. Within these services is the HCBS for the Elderly, which is for those who are 60 years of age or older who are at risk at being placed within a nursing facility. There are two sides to this – one for those 60 years and older, with another for those who are between 60 and 64 who have physical disabilities.
Services for this waiver include in home service/homemaker, adult day services, and emergency home response services. To be eligible for this waiver, individuals need to be residents of Illinois, Medicaid eligible, be at risk of being placed within a nursing facility, and can safely maintain in the home or a community based setting.
For those individuals who have disabilities, there is the Person with Disabilities waiver, also part of the HCBS program. At the time of application, individuals need to be under 60 years of age, enrolled in Medicaid or in the Health Benefits for Workers and Disabilities, and be at risk for being placed in a nursing facility.
Services include a personal assistant, home health aides, homemaker service, adult day care, personal emergency response system, respite, and extended state plan therapy services.
The state of Illinois has an executive plan for the next year in regards to implementing and rebalancing the long term care system in order to further provide effective in home and community based services for their elderly population. These changes help to provide sustainable services and programs to be better assist elderly residents, while also establishing more resource centers to assist and provide information and assistance for individuals and their families.
For more information, individuals can contact the Department of Healthcare and Family Services either by phone or by email.

Join our Google+ Community & Discussion Group!
Learn More
Further Information
Illinois Supportive Living Program

HCBS – for the Elderly

HCBS – for those with Disabilities

Illinois Department on Aging - State Plan on Aging (.pdf)

Copyright © 2014 by Regina Woodard
- Article by Regina Woodard exclusively for Assisted Living Directory