Learn Facility Availability:
1-866-333-6550


Assisted Living Directory
has been in service for over
11 years
! Learn how
Our Site is Different!
Learn something new today in
Assisted Living Directory's Blog!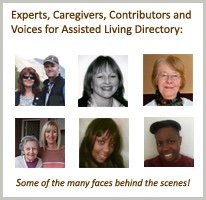 Keep up with our future videos! 253,000 + views and counting!
Local Arizona Senior Care Help

Hello, My name is Nita I am a certified and local senior care advisor. I am based in Arizona, and I am here to answer your questions!
1-877-687-4988
(A Free Service)

Who we work with & why
ALTCS and Covering The Cost of Long-Term Care: Our Survey of Arizona Facilities & How To Find Communties That Accept ALTCS
Learn About Arizona's Assisted Living Regulations: & How To Get A Printable Copy!
How To Find Medicaid Certified Assisted Living: Arizona Statewide
3 WAYS TO FIND SMALL-TOWN/RURAL ASSISTED LIVING IN ARIZONA: Comprehensive State Lists & Data
How To File A Complaint Against An Arizona Facility: Quickly & Anonymously
The 10 Most Common Facility Citations: A Few Surprises Here
Our Top Advice for Anyone Searching For Assisted Living
Facility Inspections & Citations - Arizona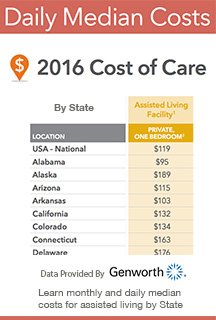 Arizona Assisted Living Homes Association (AALHA):
Phone: 1-888-400-9044
P.O. Box 21752
Mesa, AZ 85215
Elder Abuse:
Report suspected abuse by calling 800-677-1116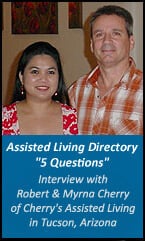 Popular Help Pages:
Assisted Living Tidbits
Good questions we have received about Cherry's assisted living - questions and comments that may serve as examples of the types of questions you may consider asking facilities that you are interested in:
Can you care for stroke victims? My father's right side was affected and is right-handed, so needs help with daily living activities. His mental faculties are intact, as is his speech. Also, do you have vacancies, as he is to be discharged from St. Joseph's Rehab Unit on 4/22.
I was wondering if you deal with dementia patients and about what the monthly cost is.
Q: My dad has just turned 99. Needs help with preparing meals, and bathing. Gets around with a walker. How much is it and is there a waiting list. Thinking of moving him in with us for a short while. Still lives alone at Far Horizons East at Speedway and Pantano.
Q: Do you have any availability at this time? I am looking for my parents (87 & 91). Do you take pets?
Q: How much for a 90yr old with not-so-good short term memory but good long term from minor stroke in surgery? She has a small house trained dog she would miss terribly. She has lived with us for 17 years is very good natured quiet, can dress self, but needs reminding and supervision with meds and showers. Uses a walker, often forgetting it.
Q: I have a mentally handicapped sister that is 36. I am trying to find a the proper place for her to live and have fun. If your facility is not appropriate, do you know of one that is? Thank you for your time. Also, do you accept Medicaid?
Q: Do you care for patients with neurological problems (Parkinson's, Dementia) and do you accept ALTECS?
Q: I am currently gathering information for future reference. Could you please send me a list of your rates and what that covers (showering, transportation, etc.) Do you have a brochure that you could send me about Cherry's assisted living?
Q: Hello! I'm helping my sister find an Assisted Living facility in or near Tucson, AZ. My sister is 58 yrs old, but is unable to live alone & care for herself. She's a cardiac patient with back injuries, and is under the care of a few different doctors in the area. Do you provide for such people, or are you only available for Seniors?
Q: I'm looking for an assisted living with the ability to transition to a nursing home as needed. This is for my mother who currently lives at home. - Katherine
Q: My aunt is lives in Oracle and is in need of assisted living. Do you work with Medicare. She is in early stages of Alzheimer's.
Q: What is the cost of living there? And is there any grants or financial assistance available for someone who can't afford senior housing?
Q: I am currently looking for an assisted residence in Tucson for my mother and am wondering if you have any openings at this time. She is a 'young senior' at 54 years old, so I also want to find out if there are any age restrictions at Cherry's assisted living.
Q: My Aunt is 97 years old. She needs some assistance, but is mentally alert. Do you accept Medicare or State Aid such as ALTCS? Also do you accept small pets at your facility?
Q: Does Cherry's have internet available to all seniors living there, and perhaps a common computer for them to use? My mom does not own a computer, but would like to communicate with grandkids. - Sheila
Q: I am considering moving my Dad from a larger facility here in Tucson. He suffers from vascular dementia. What is your price range and are you accepting new residents? Thank you. - Diane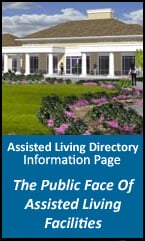 Don't be fooled by the Questionable Tactics used by many assisted living sites

Assisted Living Directory has a No Spam Guarantee!