Assisted Living Tidbits
Interesting and helpful questions that we have received about Chateau of Novi, and assisted living - questions that may serve as examples of the types of questions you may consider asking facilities you are looking into:
Our University of Michigan tailgate friend recently moved into your facility - we just want to learn more about your facility and what all it has to offer. I am looking for pricing for a one bedroom apartment. Also, do you accept government subsidy for the rent?
Do you accept Medicaid? I am looking for a residence for my mother in law. She is 82 with moderate Alzheimer's. She is a widow, my father in law was a Veteran. Currently her only income is SS which is approximately 1200.00 per month.
We are looking for somewhere in this area for my Mother, who has Alzheimer's. She has some physical limitations (She has one arm, and has had for some 60 years), and memory problems. She does not need a "nursing home" but I'm not sure she will be up to an assisted living home. Also, we need some idea of the cost.
I am hoping you can help with funding. My mom is of limited means and is having problems with a VA subsidy will you be able to take that over?
How many residents does your facility accommodate / facility size? How much does it cost? Does Medicare cover any of it?
My mother's insurance requires a state licensed facility for assisted living. Are you? What is the monthly cost of your facility?
Hi, do you accept couples? My mom is much worse off than my dad and they should not be separated. I assume you have a wait list? And some sort of interview/tour of the facilities process?
I am looking for respite care for my adult daughter. She is a 39 year old diabetic,has a prosthetic leg,and is still recovering from a stoke like event that occurred last April and left her mentally altered. She has memory loss and a younger affect. She is able to care for her personal hygiene and medication.
How much per month. Does your facility provide care for dementia patients?
Good Day - I have a sister who is 47, lives in Novi, and has MS. We are investigating the availability of Adult Foster Care Homes as an alternative for her future care. She uses a wheelchair for mobility. She has the ability to do many things on her own - but she has progressed to a point that it is currently difficult for her to do everyday activities. We are wondering if you have any availability at Chateau of Novi -If persons with disabilities are allowed without an age limit or if you have a waiting list. Also interested in monthly cost - as she is unemployed and separated from her husband. If you currently do not have availability would you be able to direct me to another Adult Foster Care facility in your area? I'll look forward to your reply.
I am a senior at Madonna University and have to complete a Senior Project. I am interested in Gerontology and am planning to go on to complete my Master's Degree. I am looking to create a "handbook" for families who are looking into Assisted Living options for the first time, (what to expect, questions to ask, emotions involved, services provided, etc). I was curious if someone could contact me or send me information about your facility, and any additional information you could supply. I would greatly appreciate it.
I am writing on behalf of my grandmother. She is looking for a new place to live. She has medicaid/medicare and would be paying with her housing through this money. I was wondering if you had any openings, or any information on your home. The main reason she is leaving her current home is because she does not have any money left over, for spending - and this would be important to her. That's why your rates are also important. Thank you for your time.
Do you provide respite care? If so what is the daily rate? Also what is the average age of your populations?
Looking for long term care for my father - 82 years old with Parkinson's. I have a brother who lives in Novi
We are looking for aa assisted living place for our 87 year old mother who is currently living in her home independently. We would like some general information regarding your facility, the accommodations, and cost.
I have a family member (a cousin) who is 50 years old. She suffered a severe stroke 5 years ago and lives with her sister who is now dying of cancer. She is independent, but needs help with things like cleaning and paying the bills and getting groceries. We are looking for a hospitable, clean, friendly environment for which we could turn to when her sister passes. Can you tell me more about your facility, environment, and services and whether this would be appropriate?
Q: HI Do you have any openings for a 50 yr old woman on Medicaid w/ limited SSI $$?
She is a Stroke patient. She undertands but has Ephasia. Right side limited mobility. Just learning to walk w/ a Brace/Cane but mostly in wheel chair. - Laura
Q: I am looking for subsidized housing for a 54yo disabled female in the Novi/Northville/ or Farmington areas - any information you can provide me would be greatly appreciated,thank you in advance - Pam
Q: I am interested in working part time and wanted to know if you were hiring at this time? Thanks! Catherine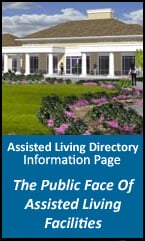 Don't be fooled by the Questionable Tactics used by many assisted living sites

Assisted Living Directory has a No Spam Guarantee!