Assisted Living Tidbits:
What really defines 'elegance' when it comes to assisted living? We've seen quite a few listings come through our site, and some of them label themselves as being "elegant' or 'luxury' assisted living. At times, though, it seems as if the amenities and services offered are not a whole lot different from some of the other 'normal' assisted living facilities that they may compete with.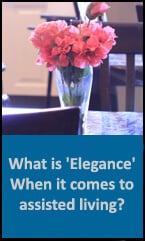 So what really makes something elegant, over a normal assisted living experience? Sure, a facility that has it's own workout studio, and is next to a beach, or a golf course may be more easily considered elegant, but when it comes to the tangibles of what really is offered, perhaps a lot of it comes down to the details.
Let's take, for example, one aspect of most assisted living facilities - meals. Most facilities that we've seen offer some sort of daily meal program. This is important, since this is one of the things that seniors are likely to have trouble with, especially those who are disabled in some way. A facility may offer '3 meals a day' which may be meals by definition, but with no frills. They may be pre-packaged meals, or the menu may be somewhat limited, and not change much from week to week. Special diets may not be accommodated either.
Or, if a facility is going for the 'elegant' or 'premier' standing, meals may be almost in the realm of entertainment, and not just nutrition. We've seen facilities that have a full-time, talented chef and kitchen staff that choose the best, and most fresh ingredients, and make meals that would rival most coat-and-tie places in any large city. Juices are freshly squeezed over store-bought, and special diets are no problem at all. The menus at these types of facilities are ever-changing and dynamic, and even the small details like silverware and linens would impress most critics.

Other things in the facility follow the same attention to detail, like the landscaping, staff ratios, offerings on the activity calendar (if there is one), and even things like having a salon, or massage therapist at the facility all contribute to truly qualifying a facility as being elegant.
Naturally, since the Beverly Hills Carmel assisted living facility is located in the urban icon that represents elegance and sophistication - Beverly Hills - it has a lot to live up to with that name alone. From one look at what they have to offer - things like 'fresh meats, fruits and vegetables,' a 24 hour concierge, room service, and our favorite - the 'Good morning Tuck-in' services - we think that it is safe to say that the Beverly Hills Carmel assisted living facility is a fine example of what elegant, or premier assisted living can offer!
Great questions and comments we have received about Beverly Hills Carmel:
Q: Do you hire RNs ? Donna
***We've addressed this 'question' in several places on Assisted Livnig Directory, on how to, and how not to get a job as an RN, and one of our consistent suggestions is to not solicit for employment through email, especially if it is an impersonal, one-liner. It's always best to pick up the phone, or do it in person. - Assisted Living Directory.
---
Subscribe
Don't be fooled by the Questionable Tactics used by many assisted living sites
Assisted Living Directory has a No Spam Guarantee!