One of the topics we have been discussing recently on our site has been about the effect of 'changes' on residents in any routine in an assisted living or memory care facility. This brings us back to talking about what the core of assisted living is.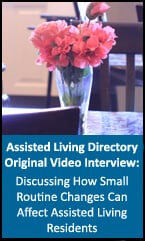 When seniors, or a person with a condition such as Alzheimer's moves into a senior care facility, what exactly are they looking for? Of course, most facilities will describe in detail what their services and amenities are, which usually include things like 24 x 7 staffing, and 3 meals a day with snacks, scheduled transportation and activities.
However, at it's core, assisted living delivers a huge degree of knowing what to expect, and when. When seniors are at a time in their life where any daily task is a challenge, such as using the restroom, or putting on shoes - knowing exactly when you will be helped, and by whom is a big deal.
Our original discussion about changes in routine was centered mostly around residents with memory disorders, since these are the folks who are most sensitive to any perceived difference in their environment - or, to put it differently, are most able to be confused by something that is not the same, or out of place.
However, routine changes, staffing changes, or even schedule changes at an assisted living facility can affect every resident, regardless of condition or mental health status. People choose assisted living to know that they will be taken care of every day, and at predictable times. So, by changing mealtime by even 1/2 hour, the facility may be inviting distress and anxiety with some or many of it's residents.
If a change is necessary, it is important for the facility to do everything necessary to minimize the impact on the residents. One facility administrator that we spoke to discussed the effect of a simple afternoon staffing change that was causing a great deal of discomfort with several residents. The way she handled this was to have the new afternoon staff come in unannounced through a side door, and make as little noise and commotion as possible. The residents, from that day on, barely noticed the staffing change, and thus, the anxiety and distress was minimized.
We encourage anyone interested in assisted living at Bentley Commons, or anywhere else, to tour the facility, and to ask about the daily routine of life at the facility, and if it is somewhat uniform from week to week, or if it is highly varied, and individualized to each resident's needs. Another question might be to ask about how many residents have memory disorders, or dementias at the facility. These are the residents who will be most sensitive to, and will benefit the most from a highly structured scheduled and environment. If there are few, or no residents like this, then a more flexible daily schedule might work at that particular facility.
---
Subscribe
Don't be fooled by the Questionable Tactics used by many assisted living sites
Assisted Living Directory has a No Spam Guarantee!