Assisted Living Tidbits and Information for Columbus:
Columbus Wisconsin is a small town located in south-central Wisconsin. Currently, there are just under 5,000 residents in Columbus. Of these residents, an estimated 924 of them are seniors (over the age of 65). This number represents 18.9 percent of the population of Columbus, which is quite a bit over the national average of 12.6 percent.
The City of Columbus has an excellent website, and we were delighted to see that they have a good page that is easily findable about their senior center, programs and activities. You can view the Senior Center page here.
The center is located at 125 North Dickason Boulevard in Columbus, and the phone number is (920) 623-5918. The senior center is very centrally located in Columbus, very near to the intersection of W. James and N. Ludington streets, and within walking distance to the Columbus Amtrak station. The center opened in 1979, and was created to offer local seniors a place to participate in activities, and to utilize services available to them. The activities may be educational, social, or just for entertainment. In addition, there are advocacy programs, health services and agency referrals available to Columbus seniors.
The City of Columbus, and the Senior Center produce a very good monthly newsletter - "Prime Time Connection" that offers more information for local seniors in a readily viewable and downloadable .pdf format. The newsletter is a wonderful service in that it can be accessed by just about anyone, regardless of location. Seniors living in a long-term care or assisted living environment in Columbus can view the newsletter, and print it easily. Most assisted living facilities have a common, or public computer that can be used by residents.
Some of the information that may be found in the newsletter includes information about the Senior Center, including a good list of the specific programs and services it offers. The center has a workout room, a gift shop, a magnifying reading machine, and serves as a drop-off site for eye glasses, hearing aids, batteries and more.
You'll also find information about special events, including information about holidays, parades, and special celebrations.
The newsletter has a good health and wellness section as well! Readers will find information about classes and workshops relevant to senior nutrition, cooking, exercise, and personal health.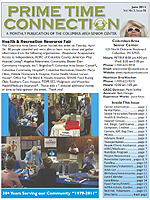 The Senior Center of Columbus has much to offer all seniors in Columbus - from those who are able to live independently, to those who may reside in an assisted living facility, such as the At Home Again Assisted Living home profiled on this page.
Great questions and comments we have received about At Home Again:
Q: Would like to see the facility for my mother-in-law with Alzheimer's. What are the monthly costs? We would like to come in for a tour. -
Sandy
Q: Do you have any openings? How long does the usual intake process take? Can I put my mother on a wait list, if she's not ready to go right now. - Marjorie
***An interesting question. Many facilities will require a deposit to be put on a wait list, others may not. Always smart to ask. - ALD
Q: Do you offer meals?
Do you provide furniture or does the individuals need to bring some of their own? - Jacki
---
Subscribe
Don't be fooled by the Questionable Tactics used by many assisted living sites
Assisted Living Directory has a No Spam Guarantee!