Interesting questions and comments we have received about Aaspen Village Care and assisted living:
Q: Aaspen Village Care has a few locations - which one is more appropriate for someone with memory issues (a.k.a. Alzheimer's, and is there a cost difference at the different locations?
Q: I worked for your company, years ago and I am wondering if you are doing any hiring? I would have called but this page does not display a phone number. Wondering if there is an application I could fill out on line.Thank you for your time. Look forward to hearing from you. - Jolene
Q: Do you take dementia patients? - Jacqueline
A: Yes we do. We have a unit that specializes in memory care.
It (rates) would really depend on the needs of the resident.
Thanks,
Sam
Q: My 89 year old father has been in assisted living for several years. He is now out of resources and I've borrowed all I can for his last two years of care. I'm trying to get him an Assisted Living Wavier. Could you help me with this? - David
Q: My dad is disabled (he has mental and physical disabilities), and he is on SSI. We are current looking for an assisted living facility for him. Do you have any openings? - Allison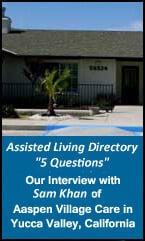 Don't be fooled by the Questionable Tactics used by many assisted living sites

Assisted Living Directory has a No Spam Guarantee!