Interesting and relevant messages and questions from our readers about 7th heaven, and assisted living.:
Q: I am looking for an assisted living facility for my 60 year old brother who is in the advanced stages of Parkinson's. He is presently living in Ft. Pierce with some assistance a few times a week. What are your costs and what do you provide?
***This question helps to dispel the myth that assisted living is only for seniors, or people with memory disorders. In fact, assisted living can help a wide range of people and conditions!
Q: Hello about a year ago my daughter and I toured your home on Northern. It was very nice. I have questions regarding the home. My mom is in between placements and we are again looking in our area. Is the home still staffed with male staff only during some shifts? and also do still not take Mercy care? We are going to switch mom off as of new enrollment but need placement now. Thank you for your time.
Q: Hello..I am checking facilities for two dear friends who are 88 and 89. The woman was just diagnosed with Cancer. .the husband is in great health. I need to know the cost of your 7th Heaven facility (monthly) and availability.
Q: What is the monthly cost for a private room at 7th Heaven? My 91 year-old mother is on a walker but in relatively good health. - Joni
Q: I'm looking for a safe clean environment for my Father who has Dementia. I would like your fee schedule or monthly cost? If possible? Thank You. - Jessie
These questions should serve as examples of what might be asked of an assisted living facility.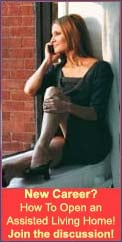 Popular Help Pages:
Sanitation and Food Safety in Assisted Living - Who Regulates It?
Being An Assertive Senior - Getting Your Questions Answered!